Men's basketball frosh struggling for positions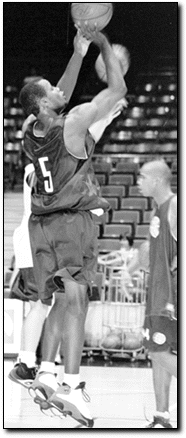 Wildcat File Photo
Arizona Daily Wildcat

UA freshman guard Ruben Douglas (5) shoots a jumper during practice last week at McKale Center. The team will open exhibition play with its annual Red-Blue Scrimmage Nov. 3 and a home matchup against Salakai Lithuania Nov. 8.


Part of the benefits from being a top-ranked college basketball team is the ability to attract top recruits from around the country.

And as Lute Olson has taken the Arizona men's basketball team to the top, culminating in a national championship in 1997, more and more talented high school seniors are hoping to play for the Wildcats.

But as those top seniors get onto campus and start practicing, the fact they were high school all-stars becomes very obvious - though not always in a positive way.

"The most difficult thing for a freshman coming in is that it is just so much to learn," Olson said. "It's just an enormous difference between high school and college and I think that sometimes they come in just feeling, well if you can play you can play. That may be true when you have the basketball, but it's not true when you're defending the man with the ball and you're defending on the offside and someone makes a baseline drive."

With Olson's help on defense, every player needs to know their assignments and complete them without making mistakes.

"Unless everybody works in unison, you're going to have a breakdown in your defense," he said.

The problem ranges to more than defense, as every player on offense has to set screens in a way the offensive spacing does not get messed up.

"It's obvious we have some guys who are talented," Olson said. "The problem is we have some guys with technique problems we're having to spend an awful lot of time on. It's- frustrating to them and to us as well."

Unfortunately for Olson, he doesn't have too much time before the pick-up games turn into competitive games against talented opponents.

"Our schedule puts us under the gun a little bit," Olson said. "We will have a few weeks of games before we will be able to put in a zone defense and play our full-court press."

The Wildcats will open exhibition play with their annual Red-Blue Scrimmage Nov. 3 and a home matchup against Salakai Lithuania Nov. 8. The Wildcats will then open up the regular season against Tennessee in the Black Coaches' Association Classic held Nov. 13 in Albuquerque, N.M.
Going, Going, Gone
Another problem that usually arises with high-profile recruiting classes is the school usually only gets a couple years of a player before the big money of the NBA calls.
With Michael Wright having already played on the 1998 USA Basketball men's junior world championship qualifying gold medal team, it seems unlikely he will be around for four years.
"I don't really see him being here for four years," junior forward Eugene Edgerson said. "I see him stepping up his game every year and stepping into the league."
Freshman guard Ruben Douglas said he not only plans to complete his eligibility, but he might stick around for a while after that.
Battle for Power
Of all the battles for starting spots between the veterans and the freshmen, perhaps the most interesting has been between Edgerson and Wright for the power forward spot.
"Michael Wright and Gene have both been very aggressive in practice," Olson said. "You can close your eyes and hear their bodies pounding against each other. The competition there is intense, to say the least."
But while Edgerson said Wright possesses more talent, Olson said Wright still has a long way to go, specifically aggressiveness control.
"He has to develop more variety with his moves because he's basically a power player who likes to power his way to the basket," Olson said.
Seth Doria can be reached via e-mail at Seth.Doria@wildcat.arizona.edu.