New club moooooves to UA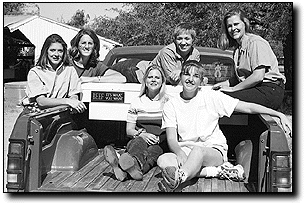 Tanith L. Balaban
Arizona Daily Wildcat

Collegiate Cattlewomen (from left) Lynell Prigge, Sherry Bush, Seneca Rautenberg (lying down), Wendy Brake, Christina Davis and Sarah Young, pose in a pickup truck at the UA agricultural farm on Roger Road. Cattlewomen believe that beef is what you want and they promote the meat and its benefits.


Arizona cattle now have a voice at the University of Arizona.

A group of UA students have formed the Collegiate Cattlewomen club, dedicated to promoting beef and educating the public about its benefits.

The eight-member club was formally organized Oct. 14 by UA animal science senior Wendy Brake, who comes from a family of steak supporters.

"My mother is acting president of the Arizona State Cattlewomen's Association and they've been prompting me to do this for a couple years," Brake said. "There really was no club for women in the College of Agriculture."

The group eventually plans to visit grammar schools near the UA and give presentations on what cows do besides providing meat, Brake said.

"We're just looking to be a good resource for people to promote the welfare of the livestock industry through education," said club historian Seneca Rautenberg, an animal science junior.

The Collegiate Cattlewomen formed as a college-level affiliate of the Arizona State Cowbelles and the Arizona Cattlemen's association, groups that tout the beef and dairy industries.

Brake said the Cowbelles, headed by her mother, Linda Brake, gave the UA group $500 to get started.

There are only eight other cattlewomen clubs at the college level in the United States, Wendy Brake said.

The UA cattlewomen held one fund raiser at the beginning of the year, she said. The women raffled off three steaks they received from the UA Meat Lab.

The group will host a booth Nov. 6 in the College of Agriculture's "burrito breakfast" Homecoming event, Rautenberg said. The Collegiate Cattlewomen will provide a see-through plastic cow anatomy demonstration.

The club also hopes to address criticism from those opposed to eating meat, Rautenberg said.

Cattle ranchers and dairy farmers do not "wantonly" kill animals, she said. Beef cattle are "raised for beef" and dairy cows are not killed unless they are sick or otherwise incapacitated.

"Animals are killed everyday by the Humane Society," Rautenberg said. "We're not killing animals because we have too many."

The group will not try to "convert" anyone who doesn't eat meat, she said.

"We think they will help people understand why agriculture is important and why beef is important to the way we live," said Sandy Eastlake, executive director of the Arizona Beef Council.

"Not only does it taste real good but it's real good for you," Eastlake said. "I worry about people who don't eat beef because I worry that they're not getting enough Zinc, Iron, B vitamins and protein."

The Arizona Beef Council is excited about the formation of such a program, she said.

With less than 2 percent of the U.S. population involved in agriculture, "it is encouraging to see a group of young women organize to take an active role in programs that will have an impact on the future of beef production," Eastlake said.

Organizations such as the Collegiate Cattlewomen are eligible for Beef Council funding if they develop an educational, promotional or research program and apply for a grant.

All UA students - including men - are welcome to join the Collegiate Cattlewomen.

Adrienne Shoberg, an art history and Italian studies junior, said she supports the concept of Collegiate Cattlewomen.

"I don't really eat much red meat," Shoberg said. "It doesn't really impact me personally but if other people are interested - why not?"

Michael Lafleur can be reached via e-mail at Michael.Lafleur@wildcat.arizona.edu.