McAuliffe's mother ignites hope in Tucsonans' hearts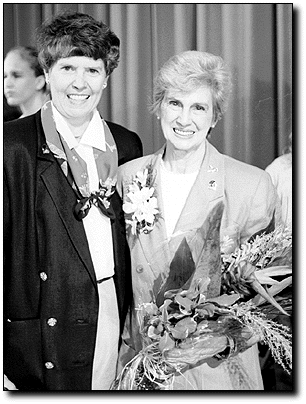 Jennifer Etsitty
Arizona Daily Wildcat

Emily Morrison (left), Department Director for Education at the Pima Air and Space Museum, stands with Grace Corrigan, mother of Challenger Astronaut Christa McAuliffe, Friday at the Marana Junior High School. Corrigan announced the opening of the Challenger Center, a hands-on learning facility at the Pima Air and Space Museum which will open to the public March 1999.


As Christa McAuliffe prepared for her fatal mission aboard the Space Shuttle Challenger in 1986, the teacher and astronaut hoped to bring learning to a new frontier.

"I have the largest classroom - the whole world," said her mother Grace Corrigan, remembering McAuliffe's words.

Corrigan spoke Friday at Tucson elementary schools to audiences of more than 100 children, teachers and community members about McAuliffe's goals of encouraging curiosity and lifelong learning.

"One of the things that Christa would have wanted to do is tell everybody that there are no boundaries," Corrigan said. "You can all be winners, have fun while you're doing it and be the best you can."

McAuliffe had planned to take pictures of Earth from the Challenger and teach two lessons from space on the roles and living habits of astronauts.

"She was going to show you all these things she thought you'd be interested in," Corrigan told the children.

Corrigan is traveling across the country to spread her daughter's message about the importance of education.

"Many good things have come from things that are not so good," she said, referring to McAuliffe's death.

Corrigan was in Tucson to announce the opening of the Challenger Center, a hands-on learning facility at the Pima Air and Space Museum. The center will open to the public in March 1999.

The center will offer a simulated two-hour space mission to the moon and through a comet's tail, said Emily Morrison, department director for education at the Pima Air and Space Museum.

"This is not just a field trip," Morrison said. "The children here in Tucson will have a chance to get in on an educational space simulation experience."

The missions typically cost about $400 for a group of 32 children, Morrison said. The program's curriculum is geared toward sixth-graders, she said.

"It's a culminating experience," she said. "They come to the center after education in the classroom."

The Challenger Center offers missions for visitors of all ages, Morrison said.

"The wonderful thing about the Challenger Center is the many kinds of missions available," she said. "There are chances for UA (University of Arizona) student missions, or UA departments can bring staff in for development."

The missions aim to build community and team cooperation, Morrison said.

"We want to plant the seed of excitement at a very crucial time in a child's life," she said.

April Abat, an eighth-grader at Marana Junior High School, said Corrigan's words were inspiring.

"Her daughter was really someone who knew what she wanted to do," Abat said. "That's a nice change to see."

UA art history sophomore Lisa Bambauer, who was in first grade at the time, said she remembers her mother's reaction to the Challenger explosion.

"She said there was a teacher on board and that she was a mother," she said.

Sarah A. Perry can be reached via e-mail at Sarah.A.Perry@wildcat.arizona.edu.