Students size up possible tuition hike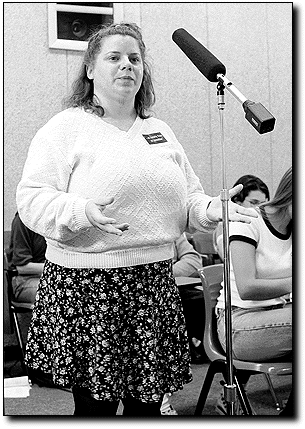 Jennifer Etsitty
Arizona Daily Wildcat

Doctoral planetary sciences student Barbara Cohen speaks last night, at the Harvill Building, to the board of regents during a teleconference hearing. The forum was held to discuss next year's tuition rates.


The Arizona Board of Regents took note last night as the state's three university presidents recommended a near 5 percent tuition increase and students statewide lobbied for a 2.8 percent hike.

University of Arizona President Peter Likins, Arizona State University President Lattie Coor and Northern Arizona University President Clara Lovett presented their proposal at the beginning of the annual statewide tuition hearing.

"The three of us will recommend a $100 Arizona resident increase, and a $300 increase for nonresidents," Coor said. Those increases amount to a raise of 4.89 percent for Arizonans and 3.32 percent for out-of-state students.

Amy Impson, vice president of student affairs at NAU, spoke for the Arizona Student Association, which recommended a 2.8 percent increase to the regents - 1.8 percent to match inflation, plus 1 percent for growth.

The recommendations were presented during a two-hour teleconference between students, the university presidents and the regents.

Interactive sites were set up at the UA, ASU, NAU and various branch campuses.

The regents held the hearing to gather information before a final decision at their next meeting Nov. 20 at ASU.

Likins said after the meeting that an increase in financial aid is needed in conjunction with the tuition increase.

A UA student on financial aid accrues about $17,000 in debt in four years, with tuition counting for about half, Likins said.

"It is not possible to make it (education) accessible with low tuition - it is only possible with financial aid," Likins said. "The old philosophy of making it affordable by keeping the price down is not working."

This academic year, Arizona residents attending any of the three state universities paid $2,162. Out-of-state students attending the UA and ASU shelled out $9,114 and those at NAU forked over $8,076.

In light of last year's 5 percent increase, Associated Students President Tara Taylor said she was concerned about the presidents' proposal.

"Students need to know where tuition is going," Taylor said. "When a student comes in here as a freshman, they should know what a minimum and maximum (tuition level) will be."

Most students who spoke last night agreed with ASA's proposal.

Cisco Aguilar, a UA accounting and finance senior, said the regents should adapt the lower tuition-increase proposal.

"It should be equalized among out-of-state and in-state students," said Aguilar, also ASUA executive vice president. "It should be a 2.8 percent increase to go along with ASA."

Mark Johnson, a UA accounting senior, simplified the discussion.

"Keep it low," Johnson said. "It will all be good."

Seth Swift, an astronomy freshman, said he does not know what the proposed increase is going to fund.

"If the money went for faculty raises or to improve the education, that wouldn't be a problem," Swift said. "I don't know where the money is going."

Regent John Munger, who moderated the event at the UA, said after the meeting he was not sure if he would vote in favor of the 4.8 percent increase proposed by the presidents.

"The regents haven't gotten nearly enough information yet," Munger said. "I won't vote for an increase until I know where it is going."

Taylor said after the meeting she was happy with the student support the ASA recommendation received.

"You usually have people saying, 'no tuition increase,'" Taylor said. "Everyone hit home the idea of 2.8 percent, which might carry a little more weight."

Anthony C. Braza can be reached via e-mail at Anthony.C.Braza@wildcat.arizona.edu.