Justices come to UA campus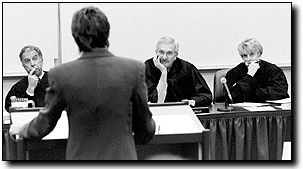 Wildcat File Photo
Arizona Daily Wildcat

Attorney Carla Ryan (foreground) presents her arguments to (from left) Chief Justice Thomas Zlaket, Justice Stanley Feldman and Justice Ruth McGregor during the case, State of Arizona vs. Kyle David Sharp yester-day at the College of Law.


Forget about television's Judges Wapner, Judy and Ed Koch.

University of Arizona students were able to sit and watch the real thing yesterday when the Arizona Supreme Court came to campus to hear lawyers present oral arguments for three cases.

"Chief Justice Zlaket wants outlying communities to know what we're about," said Jennifer Lopez, deputy clerk of the Arizona Supreme Court, which normally hears cases in Phoenix.

The court, the highest judicial body in the state, comes to the UA College of Law every year to hear oral arguments. The five members- Chief Justice Thomas Zlaket, Vice Chief Justice Charles Jones and justices Ruth McGregor, Stanley Feldman and Frederick Martone, also travel to other locations within the state.

Justices heard oral arguments yesterday for three cases: a death penalty case, a medical breech of contract case and a statute of limitations case.
State of Arizona vs. Kyle David Sharp
Kyle Sharp, 24, of Indiana, kidnapped, sexually assaulted and murdered a Willcox motel manager in July 1995 and received the death penalty for his crimes.
All death penalty cases in Arizona are eligible for direct appeal to the Supreme Court.
The appeal issues were whether Sharp was aware of his actions and whether police misconduct was a mitigating factor.
"This is really not a death case," said defense attorney Carla Ryan, arguing her client did not deserve the death penalty. "This case basically was a reaction to a crime that was very tragic."
Sharp was convicted of calling the manager, Judith Coughlin, to his room to get him extra towels and then beating, sodomizing and strangling her to death.
Later, police found Sharp, apparently unconscious, on the bed and Coughlin's body in bathroom.
Ryan argued that her client, who has a family history that is "just terrible," could not appreciate the wrongful nature of his actions because he was in a "blackout" state.
Sharp also has a history of blackouts, she said.
Under Arizona law, in order to receive the death penalty, the convict's crime must have been "cruel, heinous and depraved," Ryan said. If Sharp was not aware of his actions, they could not be legally defined as heinous and depraved.
Assistant Attorney General Eric Olsson did not agree with Ryan's argument that Sharp blacked out.
"Mr. Sharp has never sought medical care for blackouts," Olsson said.
The blackouts have always been self-reported and Sharp seems to rely on them whenever he gets in trouble, he said.
Justice Feldman asked Olsson to comment on the trial judge's finding that Sharp was not "significantly impaired" at the time of the crime. Sharp smoked pot and drank 12 to 14 beers and an undetermined number of tequila shots.
"It's pretty obvious he must have had quite a bit," Feldman said.
Still, Sharp was able to walk 10 feet on his own when he was brought downstairs in the motel, Olsson said.
"It's not totally inconceivable that he could've been functioning and still not be aware of what he was doing afterwards," Ryan said. "The question is whether this case was especially cruel."
Ryan also argued if police had entered the room immediately they may have been able to save Coughlin's life.
"There is no evidence in the record that had they gone in immediately after arrival they would have found anything other than a corpse," Martone said.
Valley Medical Specialists vs. Steven S. Farber
Dr. Steven Farber, pulmonology and internal medicine practitioner, broke a non-competition clause with Valley Medical Specialists when he left the practice in 1994.
The clause prevented Farber from practicing medicine within a 5-mile radius of any Valley Medical office for three years. Because the group's three offices were spaced widely apart, the total restricted area was 235 miles.
Farber, claiming the clause was unfair, opened an office in Mesa - a restricted area - and continued to see clients he treated at Valley Medical.
A "major" issue in Farber's leaving was "the practice refused to treat AIDS patients," Farber's attorney Lonnie Williams said. "The clause was overbroad because he effectively could no longer practice."
The non-competition clause was created to protect Valley Medical's referral sources, said David Joffe, who represented the group.
Referral sources are doctors that refer patients to special practitioners such as those at Valley Medical, Joffe said after the hearing.
"If Dr. Farber was permitted to practice or compete next door he would still receive referrals," he said. "If he continued to get referrals, that effectively takes business from the company."
McGregor asked Williams if he thought "it is good public policy to excuse an educated person who broke a contract which protected him and others."
Such contacts should only be enforced if they are "reasonable," Williams said.
"There's a lot of movement in the medical profession today," Joffe said. "There's a very complex set of business relations that need to be looked at."
Jones asked if ruling that the agreement was not overly broad would allow doctors to abandon their patients if they leave a clinic with a non-competition clause in its employee contract for a new job.
"Competition is in the public interest," Feldman said. "Why should we allow it to be restricted?"
Fondia Hill vs. Maricopa County and the City of Phoenix
"This is a case which involves a judge and lawyer screwing up, basically," said David Catanese, attorney for Fondia Hill.
The case is a result of the Azscam investigation of 1991, in which seven Arizona legislators were caught and convicted of taking bribes to vote for allowing gambling in the state.
The Maricopa County Attorney's office hired Joe Stadino, a self-described Las Vegas mobster, to contact legislators suspected of taking bribes, Catanese said. Stadino's base of operations was an office complex in Phoenix.
Hill, a salesman, had an office next door to Stadino's.
During the investigation, a cleaning woman working in Hill's office happened upon a box of red, white and blue condoms and a video entitled "Crayon Lady." She suspected that he was a child pornographer.
The movie was actually an instructional video in which an old Tucson woman showed parents how to use crayons to educate toddlers, Catanese said.
The cleaning lady told a secretary at the complex - who happened to be an undercover police officer - of her suspicions, he said. The undercover officer told Stadino to attempt to buy a child pornography from Hill.
Stadino threatened to harm Hill's family if he did not sell him child pornography tapes, Catanese said. So Hill went to Denmark to get Stadino the pornographic videos he had requested.
Hill spent one year in jail for selling child pornography.
He filed a lawsuit for false arrest and entrapment, but it was not until nearly two years after the crime, when the statute of limitations had run out, Catanese said.
"We're in court for the statute of limitations," he said. "They (counsel for the city of Phoenix) claim we filed after the two-year time limit had run out."
Michael Lafleur can be reached via e-mail at Michael.Lafleur@wildcat.arizona.edu.