City to encroach on UA parking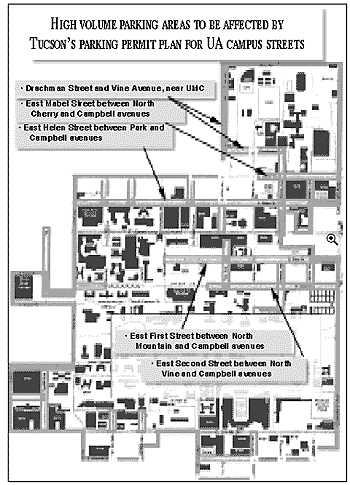 Wildcat File Photo
Arizona Daily Wildcat


Students and faculty could be caught on the front lines of a battle between Tucson and UA parking administrations Feb. 1, when the city will begin selling high-priced parking permits on city-owned campus streets despite university objections.

The city will sell yearly permits for 608 previously free parking spaces on and around campus at prices ranging from $300 to $800, said Karen Miller, assistant Tucson parking program coordinator.

Each permit will be valid for a one-block area, and there will be a $100 discount for the first year as an incentive to get students to try the program.

"Prices will be set to limit demand," said Chris Leighton, Tucson parking program coordinator. "After February, either you'll have to be in the system or find another way to campus."

The city permits will be valid from 7 a.m. to 5 p.m. Monday through Friday with separate parking permits sold for football and basketball games, Leighton said. There will be fewer permits sold than "fit without any control," he added.

Marlis Davis, UA Parking and Transportation Services director, said Tucson's parking plan amounts to competition for the UA's, which has been operating "smoothly and efficiently" for years. The city will "constrain" the UA's boundaries and cause future planning problems, she said.

Some UA students were disenchanted with the idea of city parking permits, which will cost $500 for the most inexpensive on-campus spots.

"That's horrible," said Brett Huston, a public administration senior. "We're already short of parking spaces - now they're charging $500. I couldn't even afford a Zone 1 pass."

The UA's Zone 1 permit sells for $160. A permit for the Second Street Garage costs $390.

Journalism senior Leslie Hunter said the City of Tucson's proposed prices are prohibitively high.

"I don't like that," Hunter said. "If you're in state, that ($500) is half of your tuition."

Tucson and the UA disagree on how to best oversee parking in the affected areas.

"The UA sells you the right to search for parking," Leigh-ton said, referring to the UA practice of overselling parking spaces. "Because we (Tucson) won't oversell, you'll see empty spaces. That eliminates the search-and-find practice."

But Davis said in the next 3-5 years, the school's University Village plan may conflict with Tucson's plan.

The village plan calls for academic offices, dorms, fraternities and sororities to move onto campus, where they will surround a "town center" area with retail stores, performance areas and open spaces, Davis said.

Streets affected by the city's permit system run through the University Village's planned location.

"The repercussions are the project can't go forward," Davis said.

UA and Tucson officials have been working together on reducing campus-area traffic for about two years, but Davis said the UA does not agree with city parking enforcement, which the city informed UA officials of in April.

"I think we've built a good relationship with the city and this causes a little stress on that relationship," Davis said. "They're doing this clearly - and they've said this out loud - for the revenue."

Davis did not agree with selling spots for specific block areas.

In order for Tucson's plan to work, "they need to have a pretty darn strict enforcement system," she said.

Visitors and students alike come to campus "all the time" without permits, Davis said.

"They park in our lots right now - they're going to park on their streets," she said. "What are people going to do when they come in and someone is in their spot?"

Still, Leighton said the UA has not proposed a "really specific way" of reducing campus traffic through the city-owned campus streets, and would prefer "flat out" no parking.

"I think the UA's problem is that they aren't in direct control of the dollars," he said. "It's a control issue."

The city plans to use the money it earns from the permits to repave streets and sidewalks, improve landscaping and provide better lighting, Leighton said.

But Davis said the problem is not about revenues.

"I don't want their money," she said. "I have a budget of my own and I'm pretty solvent, thank you."

City parking enforcement will also conflict with the UA's plan to reduce central campus parking, replacing the spots with perimeter garages, Davis said.

David Duffy, Department of Campus and Facilities Planning director, also disagrees with the city's plan.

The department managed a study for the UA, Tucson and the Pima Association of Governments, which recommended ways to reduce traffic in central areas of campus.

The city's strategy is to discourage campus parking with an "excessive" permit fee, Duffy said.

"In our view that's a rather transparent position, because their intent is to maximize proceeds from students who will struggle to pay," Duffy said. "They could ban parking and achieve the same ends."

The UA brought the dispute before the Tucson parking Oversight Commission, which is comprised of Davis, members the Fourth Avenue Merchant's Association and other community groups.

The commission was set to issue a com-promise plan Nov. 19, but Tucson decided to go ahead with its plan anyway, Leighton said.

"I'm shocked in a way that they went ahead and did this and just sort of slapped the commission in the face," Davis said.

Affected areas include First and Second streets from North Mountain Avenue to North Campbell Avenue, East Helen Street from North Park Avenue to Campbell and most of East Mabel Street from North Highland Avenue to Campbell.

Nothing is planned for the streets south of East Sixth Street as of now, Leighton said.

Michael LaFleur can be reached via e-mail at Michael.LaFleur@wildcat.arizona.edu.