UA center plans suit against UAPD
By Seth Doria and Bryon Wells
Arizona Daily Wildcat
August 31, 1998


Send comments to:
city@wildcat.arizona.edu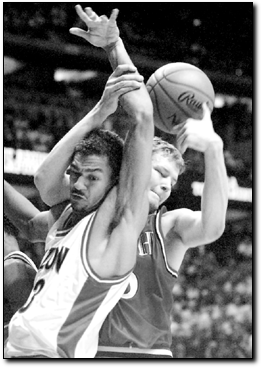 Wildcat File Photo
Arizona Daily Wildcat

Utah's Hanno Mottola, right, and senior center Donnell Harris (13) collide in the first half of the men's NCAA West Regional finals at Arrowhead Pond in Anaheim, Calif., March 21. Harris, who was arrested Thursday morning for two outstanding warrants, said he plans to sue the UAPD for false arrest and imprisonment.


UA men's basketball center Donnell Harris said yesterday he plans to sue the University of Arizona Police Department for false arrest and imprisonment.

Harris, who was arrested early Thursday morning, claims that two warrants, one for speeding and the other for marijuana possession, were listed incorrectly on his police record.

"I'm going to get a lawyer and straighten things out," Harris said. "I have a good case. Their stupidity isn't my fault."

University police Chief Harry Hueston III said yesterday he was unaware of Harris' plan to file the false arrest and false imprisonment lawsuit.

"That's his privilege," he said. "We were acting on those court orders (the warrants). They were validated."

Harris said he was pulled over for failure to use his turn signal when he changed lanes.

"I was just coming home from renting a movie and they pulled me over," Harris said. Police reports stated that Harris was cooperative during the stop and showed no signs of being impaired.

During the stop, an officer did a records check and found two Casa Grande justice court-issued warrants for his arrest and then called to verify those warrants, Hueston said.

He said regardless of whether a mistake was made concerning the handling of Harris' case, police were following departmental procedures when they arrested him.

"I know the criminal justice system is not perfect," Hueston said, adding that he did not know if Harris was carrying paperwork at the time of his arrest to prove he had met court-mandated requirements for the two prior offenses.

The two warrants stemmed from a traffic stop in Case Grande more than two years ago when Harris was pulled over for speeding. In addition to the speeding ticket, Harris said police searched his car and found two joints, leading to an additional charge of marijuana possession.

Harris said he was given community service - though he couldn't remember how much - and was told to provide the court a letter stating that he had completed his hours.

"I did it and then I turned it in and that was the end of that," Harris said. "It was done two years ago. They screwed up because the clerk or something couldn't read and I got hurt by that."

Harris said he was especially surprised about the warrants because he had been pulled over for speeding near Starr Pass during the summer and that police hadn't said anything about the warrants then.

"That's my big deal," Harris said. "There was nothing wrong with my record then and then there is now."

Harris also had to meet with men's basketball associate head coach Jim Rosborough and UA Athletic Director Jim Livengood Friday to discuss any further actions that may be taken against him.

"Both coach Rosborough and myself met with Donnell today and to the best of our knowledge, Donnell has taken care of everything he needs to have done," Livengood said in a prepared statement released after Friday's noon meeting.

Head coach Lute Olson, who is still spending time with his wife Bobbi, who has ovarian cancer, was not at the meeting but is involved in the discussions, Livengood said.

"He (Olson) was not there, but he'll certainly be involved," Livengood said. "The only issues are now with athletic department policies and men's basketball policies. Those policies are very clear." Livengood also said that any violations of policies would be dealt with internally.

Harris said he never informed the athletic department or his coaches about the Casa Grande charges because he didn't think it was necessary to tell them about his personal life.

"There was no need for them to know," he said. "That's none of their business. That's like them coming to my house and checking to make sure I'm doing what I need to."

Harris also said he had talked to a number of his teammates, and that they didn't seem too concerned.

"They were like, 'OK,'" he said. "Several of them have been in trouble too."

Bryon Wells and Seth Doria can be reached by e-mail at Bryon.Wells@wildcat.arizona.edu and Seth.Doria@wildcat.arizona.edu, respectively.