Cat Man or copycat?
By Liz Dailey
Arizona Daily Wildcat
August 31, 1998


Send comments to:
city@wildcat.arizona.edu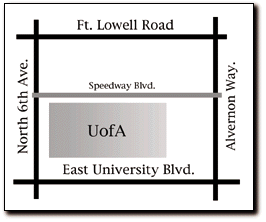 Wildcat File Photo
Arizona Daily Wildcat


Has the "Cat Man" struck again? Police say probably not.

A break-in occurred just before 4 a.m. Saturday in the area of West Grant Road and North Santa Rita Avenue.

But according to Tucson police Sgt. Eugene Mejia, police have no reason to suspect the man is the alleged Cat Man.

"As far as we know, he (the Cat Man) hasn't struck since before Aug. 17," Mejia said. "We have no evidence that this is the same person."

The Cat Man has been breaking into university-area homes where doors are left unlocked and windows are left open. He steals small items like purses and occasionally molests the victims in their sleep. The victims are young women living alone and sleeping at the time of the burglaries.

Victims have described the Cat Man as a stocky, white male in his mid-30s. The woman who reported Saturday's break-in said the intruder was in his early 20s and Hispanic.

"The height and build are similar, but the description is not the same," said Detective Kathi Kelley of the Sexual Assault Detail.

Mejia said Saturday's victim thinks the intruder was a friend of her boyfriend.

"There are a lot of dissimilarities," Kelley said.

The attacker targets areas bounded by Ft. Lowell Road to the north, East University Boulevard to the south, Alvernon Way to the east and North Sixth Avenue to the west.

"She woke up to go to the restroom and she encountered him in the hallway. She screamed and he ran out the front door," said Kelley.

Police do not have a composite sketch of the Cat Man or of the intruder in Saturday's break-in.

Anyone with information is asked to call 791-4939, 88-CRIME or 911.

Liz Dailey can be reached via e-mail at Liz.Dailey@wildcat.arizona.edu.