Disabled-rights advocate leaves UA
By Michael Lafleur
Arizona Daily Wildcat
August 31, 1998


Send comments to:
city@wildcat.arizona.edu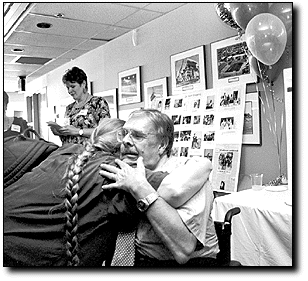 Aaron Wickenden
Arizona Daily Wildcat

Kent Kloepping gets a farewell hug Thursday afternoon at his retirement party in Arizona Stadium's President Suite. The photographs behind Kloepping document stages of his life-long fight for disabled people's rights.


Kent Kloepping had trouble getting to work 27 years ago.

Confined to a wheelchair by polio since childhood, he faced a maze of stairwells and curbs on a campus without ramps or handrails.

Kloepping fought for disabled rights for nearly three decades at the University of Arizona and established the Center for Disability Related Resources.

"People with disabilities are part of society," he said Friday. "I don't think I'm not normal - I'm normal."

As he stepped down from his post as the head of the CeDRR, influential UA community members turned out Thursday to say an emotional goodbye.

"Everyone tells me that Kent was the key to making the University of Arizona a place that's very receptive to handicapped people," said UA President Peter Likins. "This campus is different than any I've known before in one way - lots of wheels. That's Kent's doing."

A crowd of 75 flocked to the Arizona Stadium President's Suite, venturing from as far away as Washington, D.C. They represented just a smattering of people he helped and worked with during his time at the university.

Kloepping came to the UA as a doctoral student in 1967 and received a $100,000 grant that he used to build one of the nation's first college-level programs for students with disabilities.

"The campus community was very suspicious of us," he said, referring to initial concerns over potential costs. "In the early years we had to fight for everything. As our program grew we got more students, more funding - the institutional community became more familiar with us."

In 1970, Kloepping had a staff of four who served about 50 students from the basement of the Education building before there was an elevator. That was seven years before Congress passed the Rehabilitation Act prohibiting dis-crimination by federally funded institutions.

Today CeDRR receives grants that total about $2 million and serves close to 1,200 students, Kloepping said.

"It is the reason why a lot of people choose this university; a lot of people wouldn't be able to come here without CeDRR," said John Olson, a computer engineering graduate student.

Kloepping started the UA's disabled-athletics programs in the early '70s with the help of Donna Mae Miller, former head of the physical education department.

The group now boasts a full schedule of events, including a wheelchair basketball league and a track and road-racing program.

Kloepping helped Richard Miller, a disabled media arts senior, see the men's basketball team win the Final Four tournament in the spring of 1997.

"He's the guy that helped me out with accessibility issues in Indianapolis," Miller said.

Kloepping's method for change caused him to butt heads with many people.

"I have barked at a lot of people. I know I hurt people's feelings and angered university officials but if we were really going to accomplish something I had to do those things," he said.

Kloepping's blustery and strong-willed attitude also caused him to argue with some people in his own programs.

"He was a voice at a time when it wasn't popular," said Saundra Taylor, vice president for campus life.

Kloepping said that one of his reasons for leaving the UA is to allow new ideas to influence CeDRR and its programs.

"Change is inevitable - it will come and must come," he said. "I'm not sure I'm the best person for the future."

Kloepping is not completely finished with the university - he will continue on as a consultant and fund-raiser for the UA Foundation.

"If I've been troublesome, I'd call it advocacy," he said. "I apologize... but I would do it again."

Michael Lafleur can be reached via e-mail at Michael.Lafleur@wildcat.arizona.edu.