Wildcats go postal, crush Marathon Oil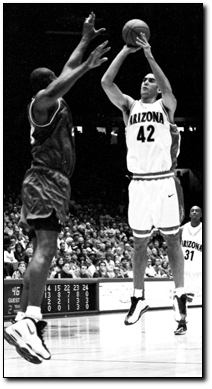 Jennifer Holmes
Arizona Daily Wildcat

Senior center A.J. Bramlett (42) goes up for a jumper against a Marathon Oil defender during Saturday's game at McKale Center. Bramlett had 23 points and hit on all nine of his field goal attempts in Arizona's 96-77 win.


As far as exhibition games go, Arizona men's basketball head coach Lute Olson couldn't have asked much more from his team as it crushed Marathon Oil 96-77 Saturday afternoon at McKale Center.

The team, playing without freshmen Ruben Douglas and Richard Jefferson, who were suspended for missing class last week, had five players score 14 points or more, three players with double-doubles and a 31-rebound advantage as the Wildcats took control of the game from the beginning and never let go.

"It was pretty obvious that we were a whole lot more fluid today," Olson said. "That is just natural improvement from the freshmen understanding better what they need to do."

The Wildcats (1-0, ranked No. 12 in the AP poll) jumped out early with an 8-0 run over the first two minutes of the game. They then used a 15-0 run later in the first half to take a 47-34 half-time lead.

"We used this as a big-time practice," said junior forward Eugene Edgerson, who finished with 16 points and 12 rebounds. "Everybody played well, especially the inside guys. We saw on the tape this weekend that their big guys play behind in the post so the natural thing is to take it to them when you get the ball and that's what we did."

Freshman Michael Wright, who has been in a battle for the starting power forward spot with Edgerson, actually spent much of the game playing at the same time with the junior.

But instead of being pushed around by a bigger center, Wright racked up 22 points - 12 of which came off free throws - and 10 rebounds in only 25 minutes.

"First game, I was little nervous and the second game a was little nervous too," Wright said. "But when I went out there against Tennessee I thought I played better and I'm just going up and up."

While Wright, Edgerson and senior center A.J. Bramlett, who hit all nine of his field goal attempts, took care of the inside game, senior point guard Jason Terry and freshman guard Traves Wilson took care of the perimeter game.

Terry, while only scoring 14 points on 6 of 13 shooting, had 10 assists and drew praise from Olson for taking advantage of Marathon Oil's zone defense in getting the ball to the inside guys.

Wilson, who has been used as more of a defensive guard, scoring only two points in the first two games, hit for 17 points, including 3 of 4 three pointers.

"Traves can shoot it," Olson said. "The biggest thing is just getting game confidence with the shot."

Also complementing Terry and Wilson was 6-foot-8-inch freshman Rick Anderson, who, amazingly enough, played shooting guard most of the game.

"Ricky did an excellent job, but he limited his time with the fouls," Olson said. "It's obvious that he's a player."

Anderson, who said he had never played guard before Olson put him there over the last week of practice, said he was happy with his performance but that he was irked by the foul situation..

"Some of those fouls weren't even fouls," he said. "I didn't even touch those guys. It was terrible."

While it still isn't clear how much Anderson will play when Jefferson and Douglas come back against Texas Wednesday, Bramlett said Anderson should be happy.

"A win is a win and we played much better than the last game," Bramlett said. "It's going to help Traves Wilson and Rick Anderson because they got a lot of time in this one."

As for Jefferson and Douglas, who said he slept through an 8 a.m. philosophy class, Olson said he expected the two to shape up or risk spending a lot more time on the bench.

"We tell them from the start of the year that there's an easy way and a hard way," Olson said. "The easy way is to do what you're told to do and the hard way is to try and beat the system."

Seth Doria can be reached via e-mail at Seth.Doria@wildcat.arizona.edu.