Devils get 'Trunged'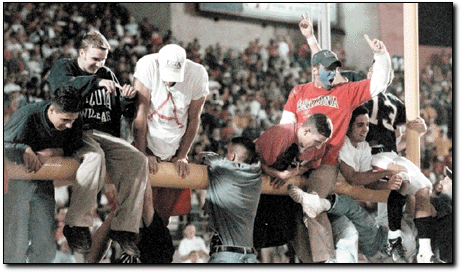 Matt Heistand
Arizona Daily Wildcat

Dozens of UA fans perch on Arizona Stadium's southern goalpost after the Wildcats defeated the Arizona State Sun Devils 50-42 Friday night. Hundreds of UA fans stormed the field after the final seconds rolled off the game clock. For extended UA-ASU football game coverage see page 12.


With their 50-42 win over Arizona State on Friday night at Arizona Stadium, the No. 6-ranked Arizona Wildcats all but clinched a spot - and an $11 million payday - in the Rose Bowl on New Year's Day.

Arizona is now 11-1, the best record in school history, and will find out for certain where it's headed Dec. 6 when the Bowl Championship Series selection show airs on ABC.

"Eleven-1 is the strongest we can go," UA junior quarterback Keith Smith said. "I think the Rose Bowl needs to take a serious look at Arizona."

The game was a wild, back-and-forth contest highlighted by Arizona junior running back Trung Canidate's school-record 288 yards rushing. Canidate's three long touchdown runs helped Arizona break it open in the second half and hold off a late Sun Devil rally.

As soon as the final play ended, fans began to stream on the field, intent on tearing down the goalposts, a reversal of the scene two years ago when ASU fans tried to do the same after their team's 56-14 win.

Among those climbing on the goalposts were several Arizona players, led by junior wide receiver Brad Brennan.

"You only get so many opportunities to get on the goalposts," he said. "Being up there, overlooking everyone is amazing."

The posts, though, stood fast, and the Arizona fans gave up about 20 minutes after the game was over.

Arizona's Rose Bowl chances got a boost Saturday night when Southern Cal upset No. 10 Notre Dame 10-0 in Los Angeles. The final key for the Wildcats is for No. 3 UCLA to beat Miami next Saturday so the Bruins can clinch a spot in the Fiesta Bowl.

Chris Jackson can be reached via e-mail at Chris.Jackson@wildcat.arizona.edu.