Volleyball team hopes winning trend persists
By Bryan Rosenbaum
Arizona Daily Wildcat
September 1, 1998


Send comments to:
sports@wildcat.arizona.edu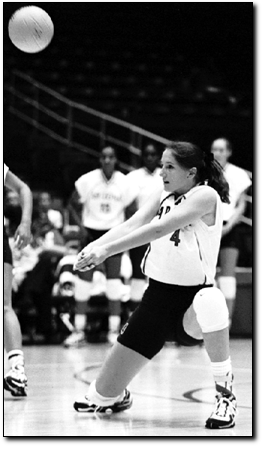 Wildcat File Photo
Arizona Daily Wildcat

Junior right outside hitter Raelene Elam (4) gets ready to hit a ball during a game last season at McKale Center. Elam is the only starter to return from last year's team as the Wildcats take on San Diego State tonight in their season opener.


Six freshmen and a transfer student will make their Arizona volleyball debuts as the Wildcats open the season tonight at San Diego State.

Two freshmen, Dana Burkholder and Lesley DuBois, will become only the third and fourth freshmen to start their first matches in the past seven years under head coach David Rubio. Burkholder starts at setter, while DuBois starts at left side hitter.

Also making their first appearances for Arizona will be Erin Sebbas, Nadia Sefferovich, Lauren Benward, Jill Talbot and New Mexico transfer Jodi Bethke.

"The very first match of the season is certainly going to present an opportunity to see where we are as a team and what we need to work on," said Rubio, who is 3-0 against the Aztecs in his career.

Only one starter, junior right outside hitter Raelene Elam, returns from last year's 20-7 squad. Senior middle blocker Keisha Johnson Demps was a regular off the bench last year, appearing in all 27 matches, but will see action as a starter this season.

Sophomores Allison Napier, Nicole McIntyre and Marisa DaLee will also be starting tonight.

"This match brings an X-factor, and that is to see how the team can handle the jitters of opening night, especially on the road," Rubio said.

Rubio would have liked to have a few more days of practice before the first match, since he's only been using this starting lineup for a week and a half. He's calling on his older players to do even more than they did a year ago and help the team gel together.

"I don't think there's enough time in the year for me to be pleased with how prepared we are and where we are as a team, but there's a starting point for everything, and this is ours," he said.

On a team that returns the fewest number of starters and brings in its largest recruiting in history, there will always be questions of youth and inexperience, especially in the preseason. Burkholder captained the US Youth National Team to victory in the World Championships and was a high school All-American, but DuBois has only played club volleyball for two years.

"Out of the freshman, Lesley is our most complete player, but somewhere down the road, we'll need something from all the freshmen," Rubio said. "Dana has the most experience, and I expect Lesley to be nervous. She's a tremendous athlete with a great brain, and we hope she gets over that nervousness quickly."

Johnson Demps said the team won't have as high expectations as last year, but is hoping this young group will surprise a few people this season.

"It takes a while to settle in," Johnson Demps said. "It's a completely different situation here than what they're used to. Some are better than others in settling in."