Fired researcher hot topic again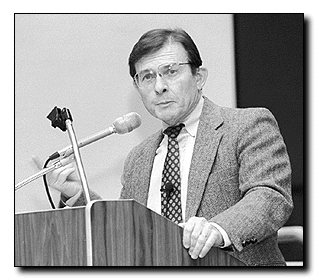 Kristy Mangos
Arizona Daily Wildcat

UA President Peter Likins speaks to the Faculty Senate yesterday about the termination of Alzheimer's researcher Marguerite Kay. Likins said he wanted to present the faculty with an overview of his reasons for firing Kay this summer.


For the second time this semester, UA President Peter Likins yesterday defended his July firing of Alzheimer's disease researcher Marguerite Kay, amid pointed criticism from a university professor.

"I did the only thing that, in good conscience, remained to me," Likins said yesterday during a monthly Faculty Senate meeting. "I terminated her. It was with a heavy heart."

Since his summertime decision to fire Kay, Likins has faced both criticism and praise from faculty members at the University of Arizona.

The UA Committee on Academic Freedom and Tenure investigated the case and concluded April, 1997 that Kay falsified data and manipulated Alzheimer's research findings. During the summer, Likins acted on the committee's recommendation and terminated Kay's employment.

But for the second meeting in a row, physics professor William Bickel said Likins decision was "flawed" and should be amended.

"President Likins' decision should be corrected," Bickel told the Faculty Senate, which met yesterday in the Education building's Kiva Auditorium. "And again, I urge the Faculty Senate to take the initiative to set up a new hearing by an independent panel assembled from outside the university."

Bickel said the CAFT hearings should not have included a recommendation to terminate Kay, adding that he thinks the Faculty Senate should be concerned about the situation.

"There's only a certain amount that can be done to right wrongs," he said outside the meeting. "I think a wrong has been committed."

Likins countered Bickel by outlining each step he took in deciding that removing Kay from her position was the correct choice, citing charges made by the investigative committee.

CAFT alleged that Kay's papers "show a lack of scientific rigor and a carelessness inconsistent with the rank of Regents professor at the UA."

Likins condemned alleged evidence of data manipulation and misrepresentation as the worst of the claims. He added that scientific misconduct was "abundant."

"To me, personally, it's such a fundamental violation of the trust we assume when we become professors," Likins said. "It's such a fundamental threat."

Kay was not present at yesterday's meeting, but in October, she shot back at Likins and the CAFT group, and was surrounded by supporters on the Senate.

Her two chief backers, Sens. John Marchalonis and Marlys Witte, were also absent from yesterday's meeting, allowing many Senate members to laud Likins for the decision to clarify his viewpoints.

Sen. Thomas Davis, who chaired CAFT, said the decision to recommend Kay's firing was difficult for the group.

"It hurts, but we did it," Davis said. "I go to bed at night knowing that we did the best job we could do."

But Sen. Roy Spece Jr. warned Davis and other senators about promoting the committee's actions.

"I don't think we should be so overcome in our self-congratulation," Spece said.

Faculty Chairman Jerrold Hogle said this should be the last time that the Senate deals with the Kay issue.

"I think it's closer to ending," he said. "The president has made a very firm statement as to how he arrived at his conclusions."

In other Faculty Senate business, University of Arizona Provost Paul Sypherd addressed a Friday story in the Arizona Daily Wildcat. by passing out a letter and reading it aloud to the Senate.

The story, "UA's top faculty deterred by low salaries" drew an overnight response from Sypherd through UA's News Services Web site, and he reprinted the same document for the senators' perusal.

Sypherd said he didn't want UA staff to think that funds intended for them will instead go to faculty members.

"I profoundly regret that the way in which my comments (made in two different interviews) were communicated suggested to some that I have an unappreciative attitude toward our staff," he wrote. "Nothing could be less true."

Outside the meeting, Sypherd said language in the story could be confusing to some.

"There was, by the use of certain words, the possibility of placing a different interpretation on my comments than what was intended," he said. "The administration is not looking for a way to deprive them (staff) of what is legally or rightfully theirs."

David J. Cieslak can be reached via e-mail at David.J.Cieslak@wildcat.arizona.edu.