1999: Wildcats looking for next year's stars inside this year's program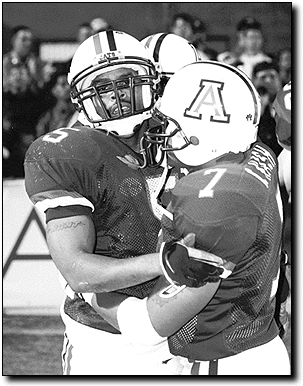 Ian Mayer
Arizona Daily Wildcat

Junior cornerback Kelvin Hunter (5) and freshman defensive back Charles Nash (7) celebrate after the Wildcats' win over ASU Nov. 27 at Arizona Stadium. With the Wildcats losing 18 seniors after this season, Hunter is one of the players the Wildcats will count on to step into a leadership role next year.


How do you replace seven All-Conference players?

That is the question looming on the minds of the Arizona coaching staff as they prepare to begin their Holiday Bowl practice Dec. 12.

After the bowl game in San Diego, the Wildcats will be losing a senior class which head coach Dick Tomey says are all having their best years at the same time.

Defensive Backs:

Losing Chris McAlister and LaChaux Rich.

While Arizona may be losing an All-American and finalist for the Jim Thorpe Award in McAlister, they still have four regulars returning from this year's squad.

Junior free safety Rafell Jones and cornerbacks Kelvin Hunter, Greg Payne Jr. and the injured Leland Gayles will all be back in uniform next year for the Wildcats.

Gayles was hurt in Washington after being on the receiving end of a Marcus Bell crunch.

Secondary coach Duane Akina believes they can replace McAlister because it has been done before.

"A lot of guys said you couldn't replace Chuck (Cecil) when he left or Darryll (Lewis), but we will survive," he said. "Obviously a guy of that level will be tough since you're talking about the best in the country."

Also coming back for Arizona with some game experience will be freshman free safety A.J. Brown.

Offensive backfield:

Losing Kelvin Eafon, Paul Shields and Jim Wendler.

Eafon scored 16 touchdowns this season and Wendler danced in the endzone twice.

That is 108 points graduating as well as a lot of leadership, which means this position is the one in flux for the Wildcats as they have to find a replacement for the three short yardage backs.

"First of all we have players in the program we have to evaluate and give the opportunity to earn a position as we get into bowl practice," running backs coach Jeff Woodruff said. "They could mature and grow. We have all kinds of scenarios and we have to see what we have here."

Some of the players mentioned by Woodruff as replacements for Eafon, Wendler and Shields were junior Ash Burrows, who is currently listed as a tight end, freshman Jeff Inmon, junior Robert Bonds and redshirt William Blocker.

"If you look at Wendler and Shields knowing who they were at the beginning of the season, we had to develop them, so we certainly feel we could develop others," Woodruff said.

As for Eafon, Woodruff said replacing him will be difficult.

"It's easy to find another athlete, but you lose his leadership, work ethic and nose for the goal line," he said.

The coaching staff has also been out recruiting junior college players to fill the role of the fullback.

Defensive Line:

Losing Daniel Greer.

This is a position that was in question at the beginning of the season but gelled and became a staple for the Wildcats as they led the Pac-10 in run defense.

Greer, the only departure from the line, was a first team All-Conference selection.

"I am thrilled to see Daniel Greer get honored because he is someone people didn't talk too much about early in the season," head coach Dick Tomey said.

The defensive line position will be set for a couple more years as they return five letterman in freshmen Eli Wnek and Keoni Fraser, sophomores Mike Robertson, Anthony Thomas, Joe Tafoya and Idris Haroon as well as junior Dolphin Tillman.

"We are lucky that we have a few more guys that could step up and take turns. But Daniel has all that experience and the things we value and teach he can do in his sleep," defensive coordinator Rich Ellerson said. "The good news is we have those young guys but they do not have his leadership abilities yet."

One other guy that Tomey said impressed him this year in practice was freshman Aaron Huisman, who won the Champion Award for outstanding scout team player at the awards banquet Sunday night.

Wide Receiver:

Losing Jeremy McDaniel.

Losing a big play receiver is always hard, but when a team can still boast threats such as juniors Dennis Northcutt and Brad Brennan, it makes a coach sleep a bit easier.

Replacing him will be the job of freshmen Brandon Nash and Malosi Leonard, both who return with game experience.

"Brandon Nash, who did a fine job for us and I am sure that someone else we have no idea about could step up and carry the flag for us," offensive coordinator Dino Babers said. "Malosi could be one of those guys who steps up big for us."

Northcutt will continue his role as one of the Wildcats' go-to-guys and Brennan will have to expand his role as a big playmaker when defenses start to focus on him a bit more.

Offensive Line:

Losing Edwin Mulitalo.

The offensive line became a pivotal force in leading Trung Canidate to the Pac-10 rushing title, and the good news is they are only losing one player.

Returning for this unit will be juniors Yusuf Scott, who was named first team All-Conference and second team All-American by Football News, and Manuia Savea, along with sophomore Makai Freitas and freshman Makoa Freitas, sophomores Bruce Wiggins and Marques McFadden and freshman Steven Grace.

"I think Charlie Dickey has done a great job with the offensive line. Their is a number of players we have there that are real good," Woodruff said.

A player that both Babers and Tomey mentioned as a guy that has impressed on the scout team was freshman Otis Redding.

Tight End:

Losing Mike Lucky.

Mike Lucky is a senior leader on the team who has been an every-down player for three years.

While replacing him as a blocking tight end and short yardage receiver won't be easy, sophomore Brandon Manumaleuna now has a full year of experience under his belt and will most likely slide into the role that Lucky played.

"We hope with the experience we gave him he can slide right in. But Mike has big shoes to fill, but luckily Brandon has some big feet," Babers said. "The question now is who is going to replace Brandon and James Hugo could be that guy or maybe Bonds or Burrows."

Punter:

Losing Ryan Springston.

Springston was a pleasant surprise this year for the coaching staff as he was named honorable mention All-Conference.

The battle for the punting duties next year will be between sophomore Chris Palic and freshman Axel Trainer, who impressed the coaching staff in preseason practice this year.

Ê Ê

All in all, the Wildcats will be losing 18 seniors to graduation after this season and look to replace them with junior college transfers and high school players.

"We need a few JC players at certain positions and we'll fill the rest with high school players," Tomey said. "We have more national capability now and we'll be able to recruit better with the new facilities."

Dan Rosen can be reached via e-mail at Dan.Rosen@wildcat.arizona.edu.