Tough women's basketball schedule should help team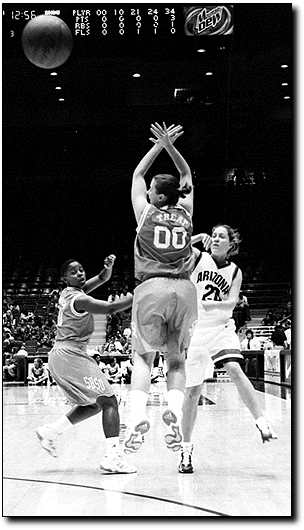 Eric M. Jukelevics
Arizona Daily Wildcat

Freshman guard Julie Brase (20) passes the ball during the game against Sam Houston State Friday night in the first round of the Insight.com Women's Classic at McKale Center. In the second game of the classic, Brase had 16 points in the 85-72 loss to No. 2 Louisiana Tech Sunday.


Arizona women's basketball head coach Joan Bonvicini said earlier this season that her team's difficult non-conference schedule would prepare it for the rigors of the Pacific 10 Conference.

For the first time in the team's history, the No. 1 and No. 2 teams in the country have played at McKale Center, and Arizona has made them fight hard to earn their victories.

Last month it was Purdue, ranked No. 1, and Sunday, it was No. 2 Louisiana Tech. Arizona lost to the Lady Techsters 85-72, but not without a fight.

"I think these games are helping us, but I hate losing," Bonvicini said. "I think talent-wise, we are definitely talented enough to play these teams. More of what we have to work on is on the offensive end, doing a better job there. We're not getting ourselves enough chances to score."

Junior forward Angela Lackey led Arizona with 20 points, followed by freshman guard Julie Brase with 16 and junior guard Lisa Griffith with 12.

Louisiana Tech's Tamicha Jackson took the Insight.com Bowl Basketball Classic MVP with a 30-point performance against Arizona, including 21 points in the second half.

The frontcourt play of freshman Elizabeth Pickney, junior Tatum Brown and Lackey has kept the 3-3 Wildcats upbeat.

"A lot of people say losing makes you doubt yourself, but that's the opposite with us," Brown said. "Having confidence in ourselves, individually and as a team, has really helped a lot."

The Wildcats next play Stephen F. Austin Thursday at 7 p.m. at McKale Center, ending their five-game homestand. Over the winter break, Arizona travels to UC Santa Barbara Dec. 19 and to Colorado State Dec. 27.

The Pac-10 season starts Jan. 2 and 4, when Arizona hosts UCLA and Southern Cal.

"We're getting there," junior guard Felecity Willis said. "This team, we're so great, if we can all come together, we can be unstoppable."

Griffith agreed with her backcourt partner.

"I'm not discouraged, we just have a lack of experience down the stretch," she said. "We can't let down in the last five minutes of the game.

"I definitely feel our team is improving. People are starting to understand their roles."

Bryan Rosenbaum can be reached via e-mail at Bryan.Rosenbaum@wildcat.arizona.edu.