Freshman to lead Husker offense in bowl game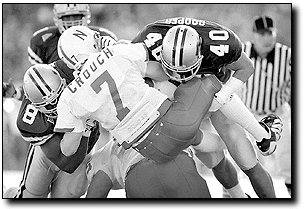 Arizona Daily Wildcat

Photo courtesy Matt Miller/Daily Nebraskan Kansas State's Jeff Kelly (8) and Jarrod Cooper (40) slam NU quarterback Eric Crouch to the turf on a second and goal play from the 3-yard line in the second quarter on Wagner Field at Manhattan, Kan. Crouch ran for 108 yards and threw three touchdown passes, but the Wildcats beat the Huskers 40-30 - their first win in 30 years against Nebraska.


Nebraska has two quarterbacks who can start in any given game just like Arizona does in Ortege Jenkins and Keith Smith.

Freshman Eric Crouch and sophomore Bobby Newcombe shared the bulk of the time this year leading the Huskers to a 9-3 record.

"That's something that I can kind of relate to as far as splitting time," Crouch said in regard to Nebraska's similar situation. "A lot of players that come in from high school are quarterbacks and getting the timing down as a team is the hardest thing you have to do initially. If you don't have any team consistency things will tend to fall apart on you. That is something we've dealt with really well."

The difference is that while both Jenkins and Smith will be playing in the Holiday Bowl, the Nebraska quarterback duo has been reduced to one because of injuries to Newcombe.

It is up to freshman Crouch to take the snaps for the Huskers Dec. 30 as they try to breakdown the Wildcats' run defense, which is No. 1 in the Pacific 10 Conference.

Crouch, a medical redshirt a year ago after having surgery on his right ankle and left knee, is second on the Huskers in rushing with 459 yards on 96 carries. He also has the third most rushing touchdowns on the team with five.

But it could come down to the passing game that makes or breaks Nebraska because of the Wildcats' run defense.

"I don't think we're definitely going to look more towards the passing game because running the ball is what we have always done here," Crouch, who is 49 of 101 for 601 yards, said. "But, if they're going to give us play action passes and deep balls, we're just going to have to make those big plays happen."

UA senior strong safety LaChaux Rich also talked about the fact the Wildcats will expect some play action from Nebraska.

"We are definitely thinking of a lot of play action because we are a good team against the option," Rich said. "The biggest plays against us this year have been passes, so we have a feeling they will try to unload it."

Besides expecting some play action from the Huskers, Arizona does not know too much about the team as a whole.

"I have to watch more film, but it is still real early," senior defensive end Daniel Greer said. "We just found out where we are going. But that doesn't matter because I will be hyped anyway."

Crouch became a Cornhusker after finishing his high school days at Millard North in Omaha, Neb., where he was named the USA Today Nebraska Player of the Year and a Parade All-American as well as a two-time All-State quarterback.

This year after being named the No. 2 quarterback in the preseason, Crouch was thrown to the wolves as the man to lead this offense down the stretch in the Big 12 Conference.

"At the beginning of the year there was a lot of talk about both of us playing a lot and that was one thing that I've kept in my mind," Crouch said. "I never gave up and that is what kept me going, expecting to play. It's something that I know is kind of surprising this year with everything that has happened to me. This is a pretty competitive conference, but I am competitive myself."

Dan Rosen can be reached via e-mail at Dan.Rosen@wildcat.arizona.edu.