the freshman factor
By Joseph Altman Jr.
Arizona Daily Wildcat
September 2, 1998


Send comments to:
city@wildcat.arizona.edu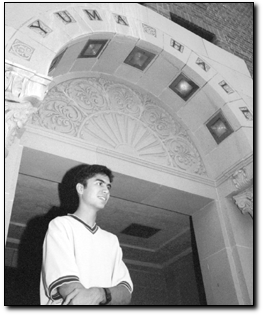 Wildcat File Photo
Arizona Daily Wildcat

Mark Fernandez, a molecular and cellular biology freshman, attributes his college success so far to a strong high school curriculum. The focused learning environment at Yuma Residence Hall helps him stay directed, he said.


The UA began filling its dorm rooms, lecture halls and Student Union restaurants last week with a bumper crop of freshmen, whom administrators say are better prepared for the rigors of college life than previous entry-level students.

Preliminary enrollment figures estimate that about 500 more freshmen than last year started class at the University of Arizona this semester, Director of Admissions Lori Goldman said. Last year's freshman class totaled 4,578.

Fall 1989 enrollment reached 5,491 students before matriculations plummeted to 4,357 in 1990.

"It's remarkable," Goldman said of the increase, which she attributed to new admissions standards that require more preparatory coursework in high school but reward in-state students who take challenging classes by making it easier for them to obtain fee waivers that pay their tuition in full.

This was the first year the UA eliminated class rank as the primary factor in awarding such waivers. Instead, officials collected data based on previous UA freshmen to create an index that takes tough course loads into account.

"It rewards students for not only doing well - but also for taking challenging course loads," Goldman said. "It really takes a whole look at the student rather than taking one indicator."

Attracting industrious high school students results in a highly motivated, better prepared freshman college class, she said.

Goldman said out-of-state students may have been enticed by the UA's increased name recognition thanks to the 1997 men's basketball championship and prominent research programs like the Mars Pathfinder mission.

"It has a reputation as a good place to go to school," she said.

But, Goldman said, "The story of the freshman class really should be the preparation that students have received at the high schools."

The current strong admission requirements make the UA's coursework standards some of the highest in the country, Goldman said. UA applicants now must have 16 units of high school coursework - four years of English, four years of math, three years of science, two years of social studies, two years of a foreign language and one year of fine arts. That's one more year of math and science than previously required. The foreign language and fine arts requirements are also new.

"These are big commitments for high schools," Goldman said, adding that many schools had to find new resources and offer additional classes to help students meet the requirements.

Tucson's Canyon Del Oro High School, whose graduates represent the largest contingent of UA freshmen, had to make changes to its course offerings and take steps to discourage "senioritis," said CDO counselor Dave Spire. CDO, Southern Arizona's largest high school, has about 2,880 students. More than 600 graduated earlier this year.

"Students are just urged to beef up their academic schedules," Spire said. "The emphasis is on students taking advantage of that curriculum rather than using their senior year of high school as a year off."

Spire said CDO had to offer additional fine arts classes for students scrambling to meet the new requirements, which he said have better prepared students for college.

"The goal is to have well-rounded students," he said.

Goldman said the advanced preparation is already evident: Freshmen taking placement exams for math and English courses this year generally placed higher than in years past.

"It (a 4-year math requirement) was recommended by the university in hopes that would be the result," she said.

"Raising requirements has really helped raise the bar," said Saundra Taylor, vice president for student life and human resources. "This has been a 4-year process in communicating with the high schools what the changes will be and helping students changing curriculum to meet the new requirements."

Goldman added, "We wouldn't be here talking about an increase in students if we hadn't seen that (coordination) in the high schools."