Defense has lots to prove
By Chris Jackson
Arizona Daily Wildcat
September 2, 1998


Send comments to:
sports@wildcat.arizona.edu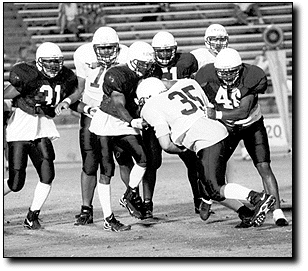 Nicholas Valenzuela
Arizona Daily Wildcat

Four members of the UA defense shut down freshman David Laudermilk (35) during last Tuesday's scrimmage at Arizona Stadium. While it is true the Wildcats' defensive starters lack playing experience, it does not mean that they will be completely green going into tomorrow's game against Hawaii.


One word has been used to describe the Arizona football team's defense over and over again this season: young.

While it is true that the Wildcats' starters do not have a lot of playing experience, it does not mean that they will be completely green going into tomorrow night's game at Hawaii.

"While we have young players it's not like we're going to be thrusting them into the fire," UA defensive coordinator Rich Ellerson said. "We're a little older than our years might indicate."

The Wildcat defense does return three full-time starters, all of whom ranked among the best last year, as well as several key back-ups who will now move into full-time roles.

"The challenge isn't to deal with our youth but to play to our strengths," Ellerson said. "A lack of experience isn't a tremendous liability."

Defensive Line

The Wildcat line returns only one starter, senior defensive tackle Daniel Greer, though the other three primary starters will not be without some experience themselves.

Greer had 33 tackles last year, 22 unassisted, 13 for a loss, plus 4.5 sacks. Greer has rebounded from an ankle injury suffered in the Arizona State game last season which caused him to miss practice.

Joining Greer in the middle will be junior Dolphin Tillman.

Tillman's experience as a starter is almost completely lacking. He played mostly special teams last season, never starting a game though he did see some action against Washington State, assisting on two tackles.

"There are not any big names on our line but they're guys who we think will be big in time," defensive line coach Marty Long said.

Despite Tillman's inexperience, Ellerson said that the general feeling is the team is set up the middle.

"The tackle situation inside is not as large or experienced as it has been in the past," Ellerson said. "But we're more concerned with our defensive ends."

Sophomore Idris Haroon is moving from tackle to end this year full time, and personally feels that if Ellerson has any concerns they are most likely directed at him.

"I'm still learning my stuff," Haroon said. "I don't pretend to know everything yet."

Haroon will match up on the right side, while left side duties will fall to sophomore Joe Tafoya.

"Joe Tafoya knows everything about the position," Haroon said.

Tafoya was fourth last year with four sacks, part of his 24 tackles in five starts.

Long said that none of the players are guaranteed to start after the first game.

"With all of those guys no one guy has jumped out and said the job is mine. We'll have to wait and see who's still playing well later on," he said.

Players on the bench will include redshirt freshman Eli Wnek at right end, sophomore Anthony Thomas and freshman Keoni Fraser at tackle and redshirt freshman Alex Luna at left end.

"The defensive line is always a critical area," head coach Dick Tomey said. "We just need to find out who's going to play a lot."

Linebackers

This group has already earned high marks from its play in practice and at Camp Cochise from Ellerson.

"Our linebacker play has a chance to be something really positive," he said.

Returning to lead the group is junior Marcus Bell, who was second on the team with 80 tackles last season. Bell also had four sacks and 10 of his tackles were for a loss.

"I feel I've been putting in a lot of time to get even better," he said of his summer.

Bell will line up as one of the inside linebackers, along with either Stadford Glover or Scooter Sprotte, both juniors.

"We'll determine whether we play Glover or Sprotte as the season goes on," linebackers coach Bob Wagner said.

Glover was a back-up last season, finishing with 31 tackles, 24 solo, and two sacks. Sprotte redshirted last season due to injury and has just shifted to linebacker after playing special teams and running back in 1995 and 1996.

Junior DaShon Polk, who started every game last season and recorded 46 tackles and three sacks, will be the outside linebacker.

"I have confidence in these guys," Bell said. "We can go far this year."

Backing up Bell and Polk will be senior Robert Bonillas, sophomore Adrian Koch and junior Antonio Pierce.

Defensive backs

The most heralded returning defensive starter is without question senior cornerback Chris McAlister.

A two-time All Pacific 10 Conference player, McAlister racked up 43 tackles, had five passes broken up, four interceptions and 335 yards on kickoff returns last season.

While the UA coaching staff plans to turn McAlister into a part-time wide receiver this season, he will still spend the majority of his time on the defensive side of the ball.

Not to be overshadowed, the other Arizona DBs are expected to come up big this year.

Junior Kelvin Hunter will line up on the opposite side of the field from McAlister. The team's fifth DB last season, Hunter had 17 tackles and one interception before adding a second interception in the Insight.com Bowl against New Mexico. That proved to be costly, though, as Hunter broke his ankle on the play and had to miss spring practice.

"I think Kelvin has had a good camp," DB coach Duane Akina said. "We'll see how that ankle holds up this year."

Junior Rafell Jones (redshirt in '97) takes over at free safety while senior LaChaux Rich (11 tackles) steps up at strong safety.

"I feel we're really starting to gel," Rich said of the group. "We struggled to get the chemistry going early on. First off, we're the best of friends off the field. It just took us a while to really work as a unit."

But neither Rich or Jones are guaranteed to be starting every game, something Rich is very aware of.

"The corners are the only guys who have their positions set," he said. "Me and (junior) Leland (Gayles) will battle all year."

While Rich squares off with Gayles, Jones will face redshirt freshman A.J. Brown, who has been slowed by injuries early this season.

"I feel good," Akina said of his unit's chances. "But I'll have a better feel after the game."

Chris Jackson can be reached via e-mail Chris.Jackson@u.arizona.edu.