A Sick Celebration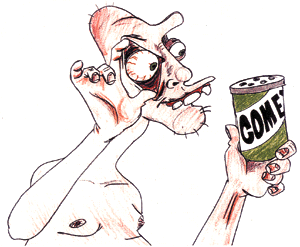 Spike and Mike's Sick and Twisted Festival of Animation is not about appeasing the masses. It is about unabashed, in-your-face, take it as it comes, PC-labels-not-included animation. There are no apologies given and disclaimers before the show state "we will be offending everyone tonight."

This year's festival features shorts with such evocative titles as "How To Use A Tampon," "doodie.com" and "Below The Belt," not to mention the return of the original South Park piece, "Spirit Of Christmas," and the South Park creators' earlier work, "Frosty."

But what could lead to such depravity?
Where It's At
Spike & Mike's Sick & Twisted Festival of Animation opens tonight at The Loft Cinema, 3233 E. Speedway. Tickets are $7 at the door, or $6.50 from Ticketmaster, 321-1000. For showtimes or more info, call The Loft at 795-7777. No one under 18 will be admitted to any screenings. For submission info, check the Spike and Mike web page at www.spikeandmike.com.

"I was in a fifties rock and roll band," reveals creator Craig "Spike" Decker. "It was called Sterno in the Flames . . . and I've always done these entrepreneurial type, entertainment based type of things."

And where does the depravity come in?

"It just kind of grew out of all of that I guess," says Decker. "We started [showing] feature film things, opening with cartoons, then we started doing the original festival in 1977. Then in '89 I had all these films I couldn't program into the original, so I had to come up with a concept for which to create a vehicle to put them into."

"To be perfectly honest, it all started in my parents' house in Riverside, California. This sounds weird, but it's the truth," reveals Decker. "When I was a little kid, I used to do these little carnivals in the backyard with this other neighbor kid named Gerald Katz. We were in elementary school. And we'd do these little carnivals and we'd charge people to do these little games."
The Spike and Mike Timeline
1977 Founding of Mellow Manor Productions. 1985-6 Animation Festival hits the road. 1986 Mellow Manor Productions moves to La Cholla. 1989 Sick and Twisted is conceived, Spike and Mike the proud parents. 1990 Baby's first birthday. 1991-2 Beavis and Butthead's "birthday". The two first episodes, "Frog Baseball" and "Monster Truck", premiere with Spike and Mike long before MTV picks up the deranged duo. 1994 Mike is diagnosed with cancer. Only a few short months later, Mike dies. 1997 20th Anniversary of Mellow Manor Productions celebrated as part of the '97 Warped Tour. Punk rock, skateboards and animation; does it get better than this? 1999 Still going strong, South Park and all.

The spirit of those carnivals is still going strong, only it has grown up considerably, costs a bit more, and has spread across the country. Audiences flock to the now legendary animation showcases every year, after flyers start circulating the country, to participate in the debauchery that ensues. In the theaters, beach balls fly through the air, emcees bring audience members up to mime sex with blow up dolls and have their toes sucked.

It's all sponsored by Mellow Manor Productions, founded in 1977 by Decker and partner Mike Gribble, and it's been going strong for over a decade.

"Mellow Manor is a house on Magnolia Avenue in Riverside," says Decker. "It's a two story house kind of by the college. It was like an Animal House type scene. Just crazy stuff. Harley-Davidsons in the living room, sex, drugs, music. We got raided by the police a lot."

Since that time, Spike's partner and long-time friend, Mike, passed away, a victim of cancer. Without Mike, "Spike and Mike" became eerily incomplete. Decker's tone becomes instantly sobered when he reflects, "It's hard. It's a lot harder without him."

Although the loss devastated him, Spike doesn't allow it to get in the way of the festival. He continues to hunt out the sickest, most warped animation the country has to offer. "Bring 'em on! I'll show 'em. I don't care," he challenges. "It's just whatever we can get."