There She Is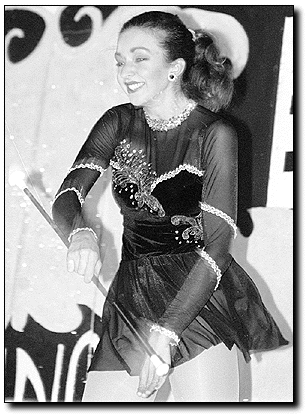 Wildcat File Photo
Arizona Daily Wildcat
UA management information systems junior Alison Allred performs a baton routine during the talent portion of Saturday's pageant. Allred was the first runner-up.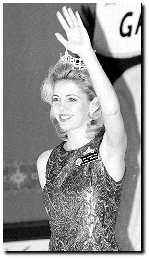 Wildcat File Photo
Arizona Daily Wildcat
Miss Arizona 1998 Leean Hendrix was on hand for the 1999 Miss Tucson Valley Competition.
Wildcat File Photo
Arizona Daily Wildcat

(From left) Former Miss Tucson Valley 1998 Becky Bowers lines up with 1999 contestants Shamara Vizcarra, Amanda Martin, Sandy Ramirez, Corey Jorgensen, Alison Allred and Diane Denigris during Saturday's Evening Wear Competition.

UA's beauty factor just went up three notches.

Three University of Arizona women dominated the awards for the Miss Tucson Valley Scholarship Pageant Saturday, claiming all the top prizes.

Diane Denigris, a family studies senior, was selected as Miss Tucson from six would-be beauty queens.

"I felt that this community needed someone to speak about youth programs and mentor to children," she said of her reason for entering the contest.

Denigris will compete for the Miss Arizona title in June, which may earn her a trip to Atlantic City for the Miss America pageant.

Biology sophomore Amanda Martin won second runner-up, and Management Information Systems junior Alison Allred secured first runner-up. The prizes ranged from $300 to $100 in scholarships.

"These are our future congresswomen and, hopefully, our future presidents," said Leean Hendrix, the reigning Miss Arizona, referring to all of the Miss Tucson contestants.

The event was held at the Ramada Palo Verde, 5251 S. Julian Drive.