Beavers top UA in another tight game
By The Associated Press
Arizona Daily Wildcat
January 25, 1999


Send comments to:
letters@wildcat.arizona.edu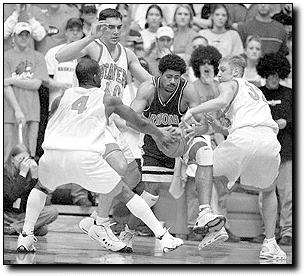 Wildcat File Photo
Arizona Daily Wildcat

Junior forward Eugene Edgerson (33) tries to keep the ball from Oregon State's Dino Taner, right, Jason Heidi (4) and Adam Masten (40) during the first half Saturday at Corvallis, Ore. The Beavers beat the No. 9 Wildcats 60-59.


Associated Press
Oregon St. 60 Arizona 59
CORVALLIS, Ore. - Jason Terry's shooting touch went from fantastic to feeble, and the Arizona Wildcats became the latest victims of Oregon State's oppressive defense.
Deaundra Tanner hit a running jumper with 28.3 seconds left and held Terry, who was suffering from a bad cold, to just five points as Oregon State came back to beat No. 9 Arizona 60-59 Saturday night, snapping the Beavers' 17-game losing streak to the Wildcats.
''I take full responsibility for the loss,'' said Terry, who scored 37 points in Thursday night's 85-83 win at Oregon. ''I wasn't myself all game. I felt like I was a whole 'nother person out there.''
Terry was just 2-of-10 from the field and 0-for-5 from 3-point range, and the Wildcats were held to more than 24 points below their average of 83.4. But they still had a chance to win at the end.
A.J. Bramlett was fouled with 3.1 seconds left, but missed both free throws. Oregon State's Clifton Jones was immediately fouled and missed his two free throws, but Arizona couldn't come up with the ball before time ran out.
Oregon State coach Eddie Payne said the roaring, near-capacity crowd of 10,204 clearly rattled Bramlett.
''They helped us a lot. I'm just really proud of our fans,'' Payne said. ''But I thought our team really had a gutty performance in a tough situation.''
It was the first win for Oregon State (10-7 overall, 4-4 Pacific-10 Conference) over Arizona (13-3, 5-2) since an 84-61 victory Dec. 2, 1989. Oregon State also defeated then-No. 7 UCLA on Jan. 7 of this year.
''I've never heard of none of these guys before we started watching them on tape,'' said Arizona's Michael Wright, who had 13 points and nine rebounds.
The Box
OREGON ST. 60, No. 9 ARIZONA 59
ARIZONA (13-3)
M.Wright 6-14 1-2 13, Jefferson 6-8 7-7 20, Bramlett 2-6 0-2 4, Douglas Anderson 2-3 0-0 4, Terry 2-10 1-2 5, Douglas 1-6 0-0 3, Wessel 3-4 1-1 7, Edgerson 0-2 1-2 1, Wilson 1-1 0-0 2. Totals 23-54 11-16 59.
OREGON ST. (10-7)
Jones 5-6 3-9 13, von Backstrom 0-0 0-0 0, Steinthal 4-10 3-4 12, Tanner 6-16 2-3 16, Petraitis 4-7 0-0 9, Masten 1-3 0-1 2, Heide 4-8 0-1 8, Lake 0-0 0-0, Walker 0-0 0-0 0. Totals 24-50 8-18 60.

Halftime - Arizona 38, Oregon St. 30. 3-Point goals - Arizona 2-11 (Jefferson 1-1, Douglas 1-5, Terry 0-5), Oregon St. 4-16 (Tanner 2-6, Steinthal 1-5, Petraitis 1-3, Masten 0-2). Rebounds - Arizona 35 (M.Wright 12), Oregon St. 30 (Jones, Heide 8). Assists - Arizona 9 (Terry 4), Oregon St. 16 (Tanner 9).

Tanner had 16 points and nine assists to lead the Beavers, but his defense of Terry was more important.

''Basically, we were just following him wherever he went,'' Tanner said. ''Without a doubt, we did the best job on him (of any team) all year.''

Freshman forward Richard Jefferson had 20 points for Arizona.

Arizona's last five games have been decided by a total of seven points. The Wildcats beat Washington 88-86, defeated Arizona State 74-73 and lost at New Mexico 79-78 before the narrow win over Oregon.

''Oregon State did a great job of just hanging in,'' Arizona coach Lute Olson said. ''They make it difficult for anyone to get good looks, and they're going to be a handful for anybody here.''

Arizona led 59-56 with 55 seconds left, but Oregon State got two free throws from Josh Steinthal to pull to 59-58 with 45.7 seconds left.

Terry got tied up at midcourt, and the Beavers won the ball on the alternating possession. Tanner then drove inside the lane and hit a soft, running jumper to put Oregon State up 60-59 with 28.3 seconds to go.

Arizona had one last possession, but had the ball knocked away with 9.6 seconds left. Bramlett was fouled by Oregon State's Jason Heide, but both of Bramlett's shots hit the back of the rim.

Arizona shot just 39 percent in the second half and 43 percent for the game, compared to 48 percent for the Beavers.

The Wildcats, who hit 8-of-13 3-pointers against Oregon, made just 2-of-11 from long range. The Beavers, who entered the game seventh in the nation in field-goal percentage defense at 36.4, held the Wildcats without a point for 6:10 during one stretch of the second half.

Oregon State, coming off an 81-51 rout of Arizona State Thursday night, is now 9-0 at home, its longest winning streak at Gill Coliseum since 1990-91. The Beavers have swept both schools from Arizona and California, and already have bettered their 3-15 Pac-10 record from last season.

''Maybe we'll start getting some publicity,'' Jones said. ''Hopefully, we'll make people look our way.''