Dorm association begins presidential recall effort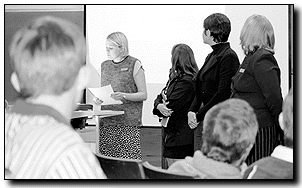 Eric M. Jukelevics
Arizona Daily Wildcat

RHA President Matthew Meaker (left) looks on at the meeting last night as charges against him were read by four of the six executive board members to the audience. Meaker was charged with making personal long-distance phone calls with RHA funds.


UA Residence Hall Association members voted last night to begin impeachment proceedings against their president for making long-distance phone calls on the organization's tab.

RHA President Matthew Meaker was relieved of his duties pending a hearing next week. Vice President for Programming Dawn Morford will take over for Meaker as interim president.

Meaker refused comment after the meeting, but began the lengthy session by confessing to the violation and apologizing to the meeting members.

The officers said Meaker made four hours and two minutes of long-distance calls on the RHA account between July and November of 1998. The charges totaled $34.80.

Morford said Meaker repaid the charges after the violation was discovered.

"Another mistake on my part has been discovered," Meaker told the crowd of about 150 people. "Even though I have made a mistake, I want to continue to serve you."

Meaker last Wednesday confessed a previous blunder to the Arizona Daily Wildcat, saying he violated the organization's constitution by treating himself and nine other RHA members to breakfast with the association's money.

While the previous violation was not discussed at last night's meeting, four of six executive board members presented charges against Meaker.

The RHA executive board agreed that he did not consult their finance director about the long-distance charges, thus violating constitutional guidelines.

The board members also said Meaker gave another board member, Services Vice President Rebecca Zilm, permission to make long-distance phone calls at RHA's expense.

"This is an abuse of his position," the board wrote in a statement. "We believe this is gross misconduct and should be treated in this manner."

Morford said the problem lies in the amount of time spent on the phone, not the $34.80.

"Although we feel the amount of money wasn't a large amount, the quantity of time was significant," she said. "There was no intention of ever telling us about this. We also feel that this is stealing from your organization."

One audience member called on Meaker to resign his position.

"I don't want to see you impeached," said Adam Lawson, a marketing and finance sophomore. "I ask that you resign. That way, you still keep an honorable way of going out."

Meaker responded by saying he would resign at the members' requests.

After two hours and 20 minutes had passed, and less than half the original audience remained at the meeting, members voted 17 to 8 to begin recall proceedings.

"His duties are suspended until there is a conclusion to this," Morford said after the meeting.

RHA members voted 25-1 to punish Zilm for allegedly making long-distance phone calls at the organization's expense.

Officers accused Zilm of making two hours of personal calls, totaling at $17.61, after seeking Meaker's permission.

"Matt said she could use the (long-distance) code as long as she paid it back," the executives wrote in a statement. "However, Rebecca made no effort to repay the RHA account."

RHA meeting members voted to revoke Zilm's long-distance calling privileges and force her to pay the organization back for the alleged charges.

Zilm refused comment after the meeting.
---

Read the history of the RHA spending debacle through articles in the Wildcat's archives, and check out the editorials and letters on the subject that have inundated the perspectives pages ever since: