Coming through Big Time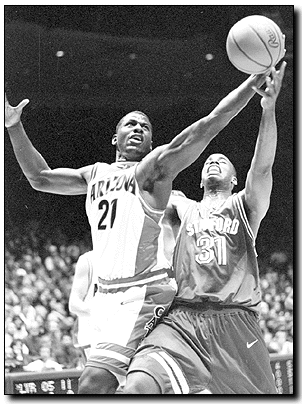 Ian Mayer
Arizona Daily Wildcat

Freshman forward Michael Wright (21) tries to pull down an offensive rebound during Arizona 78-76 win over Stanford yesterday at McKale Center. Wright had nine points and one rebound.


For those waiting to see when the Arizona men's basketball team would come together, the wait is finally over.

After falling apart in a loss to Oregon State last Saturday, the No. 13 Wildcats (14-3 overall, 6-2 Pacific 10 Conference) got it back together, playing by far their most complete game of the season as they defeated No. 3 Stanford (17-3, 7-1) 78-76 in front of a fanatical packed house at McKale Center last night.

"We lost to Oregon State, but we're still one of the best teams in the country and we're a team that's going to have to be reckoned with at the end of the season," freshman forward Richard Jefferson said.

As has been customary over the past month with the last five games being decided in the last 10 seconds, last night's game came down to a Jason Terry jumper with 3.4 seconds left to put the Wildcats ahead by two after Stanford had tied the game up on two Jarron Collins free throws.

The last shot was a microcosm of the entire game, as Terry torched Stanford point guard Arthur Lee for a game-high 29 points.

The matchup of the two John R. Wooden Award nominees, considered to be the two best point guards in the Pac-10, really didn't turn out to be all that competitive, with Lee managing just 10 points on 2 for 11 shooting.

"Arthur Lee just didn't have a good game. We needed Art steady. He just didn't have the game we needed him to have tonight offensively and defensively," Stanford head coach Mike Montgomery said. "It was hard to guard Jason Terry on that last shot. He made the plays he needed to make."
No. 13 Arizona vs. California
(14-3, 6-2 Pac-10)(12-6, 3-5)
When: Saturday at 4:07 p.m.
Where: McKale Center
TV/Radio: Televised of Fox Sports Net (Cox Cable ch. 22); broadcast on KNST (790 AM)
What: For the second straight game Wooden Award Nominee Jason Terry will be going against another award nominee in Geno Carlisle. . .Lute Olson is 23-8 against Cal, though the Golden Bears have beaten UA at McKale twice since 1994. . .The last three matchups between these two teams at McKale have been decided by a total of seven points.

Terry said it was sweet redemption to have this kind of game, especially after a disappointing performance against the Beavers when he was sick with the flu.

"It felt so good; I'm still living it up," Terry said. "This is the most focused I've been for a basketball event in my entire life. This is the biggest game of my career."

UA head coach Lute Olson said there wasn't any doubt about who was getting the ball for the last shot.

"When it gets down to the final shot, there aren't many people I've coached who I'd rather have take the shot than JT. He just has such a knack," Olson said.

In addition to the 29 points, Terry also racked up five rebounds, four assists and two steals, the first of which gave him the record as Arizona's all-time steal leader, passing Reggie Geary with 210 for Terry's career.

"JT is the best point guard in the country," Jefferson said. "He was really focused tonight. You could see it in his eyes in warm-ups."

Not to be outdone, senior center A.J. Bramlett scored 16 points on 5 of 7 shooting, but more importantly, he hit all six of his free throw attempts down the stretch, atoning for his misses against OSU and helping UA come back from a four point deficit with three minutes to play.

Bramlett also contributed on defense, holding 7-foot-2 Stanford center Tim Young to only 12 points and three rebounds before Young fouled out with 2:50 left.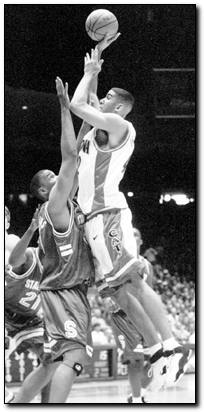 "Our seniors stepped up big time for us like we knew they needed to if we had a shot," Olson said. "A.J. hit some pretty big free throws."
While freshmen starters Michael Wright (nine points, one rebound), Rick Anderson (five points, three assists) and Jefferson (12 points, five rebounds) didn't light up the nets, Olson said he was proud of the way they played in light of the circumstances surrounding the game.
"The thing that I was really pleased about is that the freshmen are coming out and we're not seeing gaps in their play," Olson said. "Stanford sets a lot of screens and they use them well so you have to bust through them. There was only one time that I thought a guy didn't bust to try and get through the screen. You could see from the way they were on people tonight they weren't backing down to anybody."
And while the Wildcats lost the battle on the boards 36-29, Olson said he was extremely pleased with the poise they showed, particularly with the low number of turnovers.
After averaging over 20 turnovers per game, the Wildcats committed only six last night with no player having more than one.
"Six turnovers in a game that intense is probably the biggest thing," Olson said.
But as good as winning the game felt, Terry and Bramlett reminded the freshmen in the locker room that California would be in town Saturday and that they would have to play then with the same kind of enthusiasm.
"This game is big, but the Cal game is bigger," Terry said. "It will be hard to focus the freshmen. This is probably the most important game of their life."
Stanford

              Min.     FG     3pt      FT     R     A     TO     B     S     Pts.
Sauer, Peter   32     6-9     3-3     0-0     7     2      2     0     0      15
Madsen, M.     33     4-8     0-0     3-5     9     1      3     1     0      11
Young, Tim     25     4-5     0-0     4-4     3     3      2     0     0      12
Weems, Kris    34    6-14     4-8     2-2     1     5      2     0     0      18
Lee, Arthur    32    2-11     2-9     4-4     0     5      2     2     0      10
McDonald, M.   10     0-0     0-0     1-2     2     3      0     0     0       3
Moseley, D.    11     1-7     0-2     0-0     3     0      1     0     0       2
Collins, J.    17     2-4     0-0     3-5     3     0      0     0     0       7
Seaton, M.      6     0-1     0-0     0-0     2     0      0     0     0       0
TEAM                                          6
TOTAL               25-59    9-22   17-22    36    19     12     3     0      76

Arizona

              Min.     FG     3pt      FT     R     A     TO     B     S     Pts.
Wright, Mike   28     4-8     0-0     1-2     1     0      0     0     0       9
Jefferson, R.  33    5-10     0-1     2-4     5     3      1     1     2      12
Bramlett, A.J. 32     5-7     0-0     6-6     7     1      1     4     0      16
Anderson, R.   16     2-2     1-1     0-0     2     3      1     0     1       5
Terry, Jason   39    9-20     1-5   10-10     5     4      1     0     2      29
Douglas, R.    17     0-3     0-1     0-0     3     1      0     0     0       0
Wilson, T.      1     0-0     0-0     0-0     0     0      0     0     0       0
Wessel, J.     20     1-2     1-1     0-0     1     1      1     0     0       3
Edgerson, E.   14     2-2     0-0     0-0     4     0      0     1     2       4
TEAM                                          1            1
TOTAL               28-55     3-9   19-22    29    13      6     6     7      78