Wildcats avoid letdown, crush Cal Bears 91-74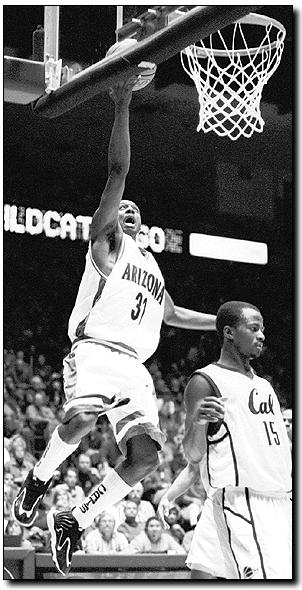 Tanith L. Balaban
Arizona Daily Wildcat

Senior point guard Jason Terry (31) goes up for a basket while California senior guard Thomas Kilgore (15) stands under the hoop. Terry led the Wildcats in scoring with 26 points in the 91-74 win over the Golden Bears


After last Thursday's upset win over No. 3 Stanford, there was a worry that Arizona's youthful freshmen would let down and lose Saturday against California, negating any progress that had been made.

But exactly the opposite happened as No. 13 Arizona (15-3 overall, 7-2 Pacific 10 Conference) took the game to Cal (12-7, 3-6) early, eventually winning 91-74 thanks to 26 points from senior point guard Jason Terry and a 16-rebound advantage behind 12 from freshman forward Michael Wright and 11 from senior center A.J. Bramlett.

"Today I made it my goal to go out and get a double-double because I did not play well against Stanford," said Wright, who finished with 15 points to go along with the 12 rebounds. "We came out and played good defense and forced a lot of turnovers."

For the game, the Wildcats came out with a balanced attack with eight guys playing more than 15 minutes and five players scoring more than 12 points, led again by Terry's 26 points on 9 of 14 shooting.

"(Terry) means a lot to this team," freshman forward Richard Jefferson said. "He means the same to this team as Michael Jordan did to the Bulls or Karl Malone means to the Jazz."

Terry was so impressive that he drew Fox commentator George Raveling's praise as the best point guard in the country in addition to gushing praise from Cal head coach Ben Braum.

"There is a sense of calm surrounding his game," Braun said. "There's never a sense of panic and while he's scoring his points and helping his team, he's playing good defense."

Terry said he had a feeling the game would go Arizona's way when Wright came out and scored the Wildcats' first six points in just over two minutes.

"When Michael Wright hit his first three shots of the game, I knew our big guys were going to be able to take control," Terry said. "And then, A.J. is the man inside anyway."

Bramlett scored 16 points to go along with the 11 rebounds for his 11th double-double of the season, the most in the Pac-10 this season.

Rounding out the post unit was junior forward Eugene Edgerson, who recovered from a gash on his head to collect four rebounds and two points. But while Edgerson's offensive statistics weren't all that impressive, his solid defense, which drew two charges and produced four steals, got him several standing ovations and praise from head coach Lute Olson.

"Gene came off the bench and did a spectacular job," Olson said. "Every time someone attacked the basket, he was there to take the hit."

While Olson doled out compliments to Douglas and Edgerson, he stressed the team is run by the seniors Terry and Bramlett and they deserved much of the credit in keeping the team focused in the wake of the Stanford win.

"It's so helpful to have two guys like A.J. and Jason Terry who are not just leaders on the floor but leaders off the floor," Olson said. "They've been to the National Championship, the Sweet 16 and the Elite Eight in three years and you don't do that without being ready to play every time out."