Broncos buck sloppy Falcons
By The Associated Press
Arizona Daily Wildcat
February 1, 1999


Send comments to:
letters@wildcat.arizona.edu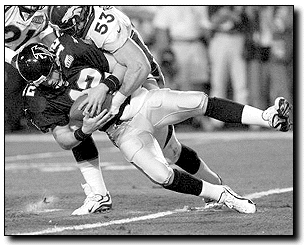 Associated Press
Arizona Daily Wildcat

Atlanta Falcons quarterback Chris Chandler (12) is sacked by Denver Broncos linebacker Bill Romanowski (53) during the first quarter of Super Bowl XXXIII in Miami last night. The Broncos won 34-19 over the Falcons.


Associated Press

MIAMI- This was exactly why John Elway came back this season - to win a second Super Bowl.

It turned out so well, he may put his retirement plans on hold and come back for a third.

''I don't know. This definitely throws a kink into it,'' Elway said after completing 18 of 29 passes for 336 yards and winning his first Super Bowl MVP trophy in five starts, a record for a quarterback.

''This is what I came back for, to enjoy the Super Bowl. I'm going to savor this.''

The final score was 34-19 over an Atlanta team that was its own worst enemy as the 38-year-old Elway got a measure of revenge against the Falcons' Dan Reeves, who coached him in three Super Bowl losses and left Denver in 1992 at odds with the quarterback. Denver coach Mike Shanahan also got some payback against Reeves, who fired him as offensive coordinator in 1991.

Elway hedged on whether he would retire or come back to try to make the Broncos the first team to win three straight Super Bowls.

''I'm going to take some time, relish this year,'' he said. ''You got to love those challenges. We got the team; we got the nucleus here to do it. It definitely throws a kink into my thinking.''

Said Shanahan: ''I don't know if this was John's last game or not. If you're going to go out, what a way to go out! There's a bunch of guys in there trying to talk to him about a threepeat.''

In addition to the Falcons, who did everything they could to self-destruct on offense, Elway's accomplices were:

Darrien Gordon, who intercepted two passes that set up two scores and set a Super Bowl record with 108 yards in interception returns. ''I was fortunate to be in the right place at the right time,'' he said.

Fullback Howard Griffith, who had two 1-yard TD runs.

Terrell Davis, the league MVP, who carried 25 times for 102 yards for his seventh consecutive postseason 100-yard game, breaking an NFL record set by John Riggins.

Denver territory. Their first TD came on rookie Tim Dwight's 94-yard kickoff return with 11 minutes left in the game.

On the other opportunities, Jamal Anderson was dumped for a 2-yard loss on fourth and 1 from the Broncos 26, Morten Andersen missed a 28-yard field goal, and Chris Chandler threw an interception to Gordon.

In all, Chandler threw three interceptions, two picked off by Gordon, who also had two in the AFC championship game.

''The things we did well all year, we didn't do,'' said Reeves, who underwent quadruple heart bypass surgery six weeks ago.

''In the red zone we missed a field goal, a fourth-down attempt, two interceptions and settled for two field goals. You can't win if you can't score in the red zone.''

Of coming back so quickly from surgery, Reeves said: ''It has been an unbelievable six weeks. I probably appreciate it a lot more because I was on the outside looking in. I really love every player and the coaching staff.''

The game turned on one of the Falcons' failures with five minutes left in the second quarter.

Atlanta moved to the Denver 8, but couldn't convert on third and goal. Then Andersen, one of only two kickers with more than 400 career field goals, missed a 26-yard attempt.

On the next play, Smith raced by Ronnie Bradford and Robinson and caught the ball in stride for an 80-yard score that made it 17-3.

''We kept giving different looks inside the 20,'' Gordon said. ''They got confused once they got inside there.''

The Atlanta loss was the fourth defeat for Reeves as a Super Bowl coach, the first three with Denver in 1987, 1988 and 1990. In each of those games, he said, his teams played nowhere near their potential.

That certainly was true Sunday with the Falcons, who won the AFC West with a 14-2 record after going 3-13 two years ago, the year before Reeves took over.

But even if Denver's offense hadn't self-destructed, the Falcons would have had problems because the defense just couldn't stop Elway. Denver scored on six of its first 10 possessions and was stopped twice because Jason Elam missed field goals.

Elway was intercepted on the other possession and the Broncos punted just once in the game. So did the Falcons, but they lost the ball four times on turnovers.

Dwight returned the opening kickoff to his own 37 and the Falcons went 48 yards in 10 plays to set up Andersen's 32-yard field goal that gave them a 3-0 lead. They got as far as the 8, but Bill Romanowski sacked Chandler on third down.

The Broncos responded with an 80-yard, 10-play drive capped by Griffith's 1-yard dive for a touchdown. The key play was a 41-yard Elway pass to Smith on third and 7 from the Denver 35.

On the Broncos' next possession, a pass deflected off Sharpe's hands to Bradford, giving the Falcons a first down at the Denver 35. But the Falcons came up short on third and 1, and then lost two yards going for it on fourth down when Keith Traylor stopped Anderson trying to run wide right.

From there, the Broncos drove 63 yards in 11 plays to set up a 26-yard field goal by Elam that gave them a 10-3 lead 5:43 into the second quarter.

Once again the Falcons threatened but didn't score when Andersen missed a 26-yard field goal wide right.

That was a killer.

On the next play, Smith caught Elway's pass for the 80-yard touchdown.

Atlanta moved well again - down to the Denver 11 - but it couldn't get the ball in the end zone and had to settle for Andersen's 28-yard field goal that made it 17-6 at the half.

On its first possession of the second half, Denver threatened yet again. But a holding penalty by Duane Carswell, who replaced Sharpe, pushed the Broncos back and Elam missed a 38-yard field goal attempt.

Four minutes later, Elam missed again from 48 yards after Darrius Johnson's interception gave the Broncos the ball at the Atlanta 42.

On the next series, Atlanta moved spiritedly to the Denver 21 on runs of 13 and 15 yards by Anderson and a 13-yard pass from Chandler to Terance Mathis.

But on the next play, Traylor tipped Chandler's pass and Gordon picked it off and raced 58 yards to the Falcons 24. Five plays later, on the first play of the fourth quarter, Griffith went in for the TD that made it 24-6.

The Falcons moved again to the 26. But on first down, Gordon picked off his second pass, returning it 50 yards to the Atlanta 48.

Three plays later, Elway went in from the 3 to make it 31-6 and effectively end the game.

Following Dwight's TD return, Elam added a 37-yard field goal with 7:08 left.

Chandler's 3-yard pass to Mathis with 2:04 left capped the scoring. A 2-point conversion attempt failed.