UA's season begins this evening
By Chris Jackson
Arizona Daily Wildcat
September 3, 1998


Send comments to:
sports@wildcat.arizona.edu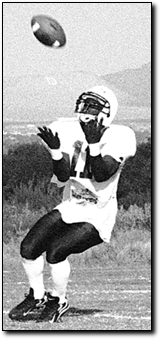 Tanith L. Balaban
Arizona Daily Wildcat

Senior cornerback Chris McAlister fields a ball from a punter during Camp Cochise. McAlister guarantees that the Wildcats will beat the Rainbows tonight in UA's opener in Hawaii.


Since Camp Cochise began Aug. 12, the Arizona football team has been beating itself up.

Now the Wildcats finally get to pound someone else into the ground.

Arizona goes up against Hawaii in Honolulu tonight at 8 to open the 1998 season for both teams.

But while the players are eager to get started, head coach Dick Tomey said the team has "never gone into a game with so many psychological disadvantages."

Tomey knows a thing or two about Hawaii. He was the head coach there for 10 years, and said that during that time, the Rainbows played three No. 1 ranked teams, "and we could have beaten all three of them."

Hawaii may be a tough team at home, but the Rainbows of 1997 were not much of a team to be reckoned with. After three wins against non-conference opponents to start the season, Hawaii ended the year with nine straight losses. Most magazines have them picked to finish near the bottom of the Western Athletic Conference this season as well.

"If we have any delusions of grandeur, they'll be dashed pretty quickly," Tomey said in response to Hawaii's less-than-impressive stats.

One Rainbow in particular who has Tomey worried is sophomore running back Charles Tharp.

"Tharp will be as good a back as we play against this year," Tomey said.

Tharp ran for 796 yards and seven touchdowns, while also picking up a team-high 435 yards and one touchdown on 42 receptions.

Protecting Tharp is Hawaii's hefty offensive line, which has an average weight of 275 pounds.

"The two fronts against each other is a key," Tomey said. "How we handle them up front, with us trying to get some of our skill guys isolated is important. It all comes down to having time and space."

UA senior defensive tackle Daniel Greer said he has a lot of respect for the Rainbows' line.

"They have a very good offensive line," he said. "The coaches have done well with their team. It'll be a great challenge."

Hawaii's other offensive weapons include junior quarterback Josh Skinner, who was 109 of 195 for 1,416 yards and had three touchdowns and 13 interceptions last season. The primary receivers for Skinner are senior Wesley Morris (17 receptions, 350 yards, one TD) and junior Eleu Kane (20 receptions, 157 yards).

On defense, the Rainbows are especially thin in the secondary, which could make for a big day for UA quarterbacks Ortege Jenkins and Keith Smith.

Jenkins called Hawaii "very fast."

"We can't underestimate them, because they're not ranked," he said.

Jenkins will start the game and he and Smith will then split the first half between them. Whoever has a better first half is likely to see the majority of snaps in the second half, Tomey said.

On the ground, the Wildcats will use senior Kelvin Eafon for the most part, though sophomore Leon Callen "will get his chances," Tomey said.

One other Wildcat who could see action off the bench is freshman punter Axel Trainer, who impressed everyone at the team's second scrimmage with a 66-yard bomb.

"The question is, was it beginner's luck or can he do it again?" Tomey said. "I know he's got the biggest leg since Josh Miller."

Miller, a Wildcat from 1990-92, is now the punter for the Pittsburgh Steelers.

While the game is certainly paramount in the minds of the players, one has to wonder if there are any thoughts of taking it easy in a vacation spot like Hawaii.

"It could be a distraction," junior inside linebacker Marcus Bell said. "But we're going there to get a win. This isn't a family vacation, and we just have to remember that."

Jenkins said the team will have 10:30 p.m. bedchecks, the earliest he can remember.

"I don't think of this as a vacation," he said. "It's a big game for us. We're going out there taking care of business, not taking in the scenery."

UA senior cornerback Chris McAlister summed up the team's focus.

"I can guarantee we'll walk out of there with a victory," he said. "We're going to Hawaii and we need to focus. We're not ready to have fun until everything is said and done. We'll walk out for a victory and we'll dominate once we get out there."

Wildcat reporter Kate Longworth contributed to this story.

Chris Jackson and Kate Longworth can be reached via e-mail at Chris.Jackson@wildcat.arizona.edu and Kate.Longworth@wildcat.arizona.edu respectively.
Arizona Wildcats vs. Hawaii Rainbow Warriors

(0-0, 0-0 Pac-10) (0-0, 0-0 WAC)

Latest line:
Arizona by 19 points

When:
Tonight at 8 p.m.

Where:
Aloha Stadium, Honolulu, Hawaii

TV/Radio:
Televised by ESPN2 and broadcast on KNST Radio (790 AM)

What:
Season opener for both teams
Tomey was the head coach at Hawaii for 10 years (1977-86)
Arizona running back Trung Canidate is out with an ankle injury
The Wildcats are 3-0 all time against the Rainbows.