Environmental activists bring inflatable chainsaw to campus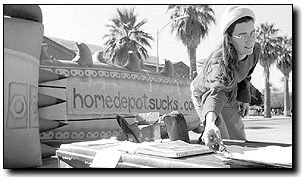 Nicholas Valenzuela
Arizona Daily Wildcat

Alumna Anne Carl grabs some material to hand out on the mall yesterday afternoon where Student Environmental Action Coalition members encouraged students to sign petitions protesting Home Depot's alleged useof old-growth wood . SEAC had a 40-foot inflatable chainsaw on the Mall yesterday.


Slightly overshadowed by an ASUA rally, an activist group set up a 40-foot-long inflatable chainsaw on the UA Mall yesterday to protest the grand opening of a new Tucson Home Depot store.

The chainsaw included a banner advertising a website - "home depot sucks.com."

Members of the Student Environmental Action Coalition urged people passing by to sign petitions denouncing Home Depot for allegedly selling old-growth wood.

While calls to the new Home Depot went unanswered yesterday, SEAC activists alleged Home Depot officials promised to stop selling the wood six years ago, but went back on their word.

SEAC leader Anne Carl said cutting down trees for the old-growth wood does irreparable damage to rainforests overseas.

At one Home Depot, 7102 E. Broadway Blvd., assistant manager George Fransaw said he didn't know if his store carries the disputed wood.

"I don't know if we even have old growth in the store," Fransaw said. "But I respect their right to protest."

One student who signed SEAC's petitions said Home Depot should stand by its purported promise.

"Home Depot made a commitment and they should hold to it," said undecided sophomore Seth Magden. "The old growth timber is irreplaceable."

SEAC will stage a demonstration outside the new Home Depot this morning, and the inflatable chainsaw will also make an appearance, Carl said.
---

| | |
| --- | --- |
| | Yesterday's protesters were inviting people to check out the "Home Depot Sucks" Web site, which has information about their cause and also has a funny picture of a money-hungry skelaton wearing an orange Home Depot apron. You can also tell them your own "Home Depot horror story." |