Clash of the titans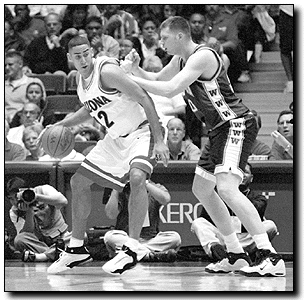 Tanith L. Balaban
Arizona Daily Wildcat

Senior center A.J. Bramlett (42) tries to break through the defense of Washington senior center Tom MacCulloch (50) during the game against the Huskies on Jan. 9 at McKale Center. Bramlett will oppose MacCulloch again tonight in Washington at 8:30 on Fox Sports Net.


It's a common cliché in sports to say a team is peaking at just the right time.

The logic goes if a team starts peaking, or playing really well in layman's terms, just before the NCAA Tournament, then the team has a better chance of making a run to the title.

That clichˇeacute; doesn't hold in the Pac-10.

With still 10 games left in the regular season starting with tonight's game at Washington, the No. 10-ranked UA men's basketball team (15-3 overall, 7-2 Pac-10) couldn't wait until the end of the season to get things straight.
No. 10 Arizona (15-3, 7-2 Pac-10) vs. Washington (12-7, 5-4)
When: Tonight at 8:30 p.m. Where: Edmundson Pavilion, Seattle TV/Radio: Televised on Fox Sports Arizona (Cox Cable ch. 22) and broadcast on KNST (790 AM) What: UW center Todd MacCulloch leads the nation in field goal percentage at 69 percent. . .UA will start Ruben Douglas at shooting guard for the first time in four games. . .UA PG Jason Terry had a career-high 11 assists against UW March, 2, 1997. . .UA is 10-10 all-time in Seattle. . .Washington has won 11 games in a row at home

The Wildcats needed to play their best basketball last weekend when they topped No. 4 Stanford and California to keep alive hopes of a conference title.

And they might need to play even better tonight when they head to Seattle, where the Washington Huskies (12-7, 5-4 Pac-10) are riding an 11-game winning streak.

"We are playing the best basketball that we have all year," UA head coach Lute Olson said. "I hope I can say that again after this weekend."

After losing to Boise State and Gonzaga, then starting the season 0-3 in conference play, Washington has won five of its last six, including a 10-point win over UCLA Sunday when Washington 7-foot center Todd MacCulloch posted 26 points and a career-high 21 rebounds.

In every game Washington has won, MacCulloch has been the key, leaving UA center A.J. Bramlett with the hefty chore of stopping the 290-pound Canadian.

"If he gets on the block, he's going to kill you all day long," Bramlett said. "We just have to stay active with him, not stay in one position so he can get a feel for you. It's kind of like a fly just buzzing around him. Hopefully we'll get him frustrated."

Bramlett added that it will be important for the power forward to rotate over if MacCulloch got the ball in good position.

"Whoever is there has got to come quick," he said. "I try to keep the ball out of his hands but sometimes he's going to get it and it's crucial for the guy to come quickly and get up on him."

In the Jan. 9 88-86 UA win over the Huskies at McKale Center, Bramlett did not allow MacCulloch to score while the two were matched up against each other. The Husky center, who leads the nation in field goal percentage at 69 percent, finished the game with eight points on 2 for 5 shooting.
Starting Lineups
Arizona

F 21 Michael Wright    13.5 ppg 8.3 rpg
F 44 Richard Jefferson 12.6 ppg 5.1 rpg
C 42 A.J. Bramlett      4.3 ppg 9.3 rpg
G  5 Ruben Douglas      6.9 ppg 2.4 rpg
G 31 Jason Terry       21.4 ppg 5.4 apg

Washington

F 33 Chris Walcott    6.4 ppg  2.9 rpg
F  5 Deon Luton      14.6 ppg  1.9 rpg
C 50 Todd MacCulloch 18.7 ppg 11.5 rpg
G 24 Donald Watts    10.9 ppg  3.0 rpg
G  3 Senque Carey     8.0 ppg  3.5 apg

While Bramlett takes care of MacCulloch, the backcourt will receive a boost from the return of Ruben Douglas, who had been benched for not displaying enough intensity in practice.

"We started Ruben in the second half of the Cal game because we thought he deserved it," Olson said. "Frankly, I think (Monday) was the best day of practice Ruben has had since he's been here."

Douglas said he was happy to have worked his way back into the lineup and that he realizes the type of intensity that is needed from him.

"When I was in high school I took all the shots," Douglas said. "Here you have to work through the flow of the game and hustle every play. It's been a roller coaster ride, but I try to look at things optimistically."

With Douglas back in the lineup, senior point guard Jason Terry should have an easier time enjoying his last trip home to play in front of his friends and family.

"When I saw the schedule, I circled this game as the biggest of the year," he said.

Olson, while saying Terry still needed to improve defensively, also gave credit to the senior as being the glue that has led the team to its 15-3 record.

"You don't notice it much in the game, but as soon as we get ourselves in trouble, he'll take it on his shoulders and either score or dish the ball off," Olson said. "JT is so quick and he's keeping people honest because of the way he shoots the three. I don't know how you deal with him one-on-one."