Women's team to face Huskies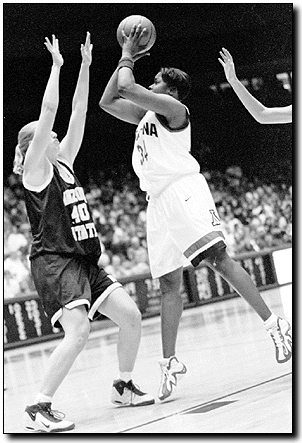 Keren Tully
Arizona Daily Wildcat

Junior forward Angela Lackey (34) goes up for a shot during the game against Arizona State Jan 16 at McKale Center. The Wildcats play Washington tonight at McKale, with tip-off at 7.


The second half of the Pacific 10 Conference season tips off tonight when the Arizona Wildcats (10-8, 5-4) host the Washington Huskies (10-8, 6-3) at 7 at McKale Center.

Arizona has won four of its last five games, and hopes to avenge a 73-63 loss to the Huskies in Seattle last month.

"This is a very important weekend for us," UA head coach Joan Bonvicini said. "Thursday is a huge game. Washington is a very good team, and they played well against us up there."

Washington hit eight three-point baskets in the last meeting against the Wildcats, and Bonvicini has been working her team hard to cut down on opponents' field goal percentage from beyond the arc.

"We're going to be the aggressors and force the action," Bonvicini said. "When we do that, we're good."

Junior forward Angela Lackey leads Arizona in scoring with 13.6 points per game, followed by freshman Elizabeth Pickney at 12.3.

"Angie and Liz have demonstrated consistency," assistant coach Sam Dixon said. "People have made major improvements over the last few weeks. The team's progress has grown by leaps and bounds."

Washington is led by senior guard Jamie Redd, who leads the team in scoring with 15.3 ppg. Senior forward Amber Hall follows close behind, averaging 15.2 ppg. Hall is the team's leading rebounder, averaging 10.6 per game.

Arizona has been struggling with rebounding, and the Huskies are the Pac-10 leader in rebounding margin (plus-5.3 per game).

Arizona is focusing on winning the first and second halves, one at a time. For a team that has had troubles consistently putting together a complete 40 minutes, this is a much easier goal to focus on and accomplish.

"The key for us is our pressure," assistant coach Denise Dove said. "That wears on teams, and if we rebound well, we can have a good second half. That means we're playing aggressively, and everything will fall into place."

The coaching staff has been hard on the team's rebounding, and Bonvicini said that if they were given a midseason grade, it would be a D-minus.

The loss of junior forward Tatum Brown, who was ruled ineligible for the remainder of the season due to academics, will make that grade more difficult to improve, but the talent is there.

"We really have to shore up our rebounding," Dixon said. "That's an area we haven't executed as well. It's really our one glaring weakness."