Fight For Your Right to Bike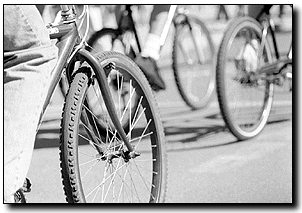 Wildcat File Photo
Arizona Daily Wildcat

Biking is the major mode of transportation around campus and is becoming more and more dangerous due to the mass amount of people that are riding to class.


The UofA has stood for 115 years, and for almost all of that time a gang war has been raging. Most students may not realize it, but the moment they first stepped on campus, they chose sides: Bikers versus pedestrians.

What this school needs is a comprehensive guide to bicycling. Until someone makes it, there's this article.

If you're an experienced biker, you can read and smile afterwards in the knowledge that you knew all this stuff before you even picked up Catalyst. If you're new to the world of biking, this can be your Yoda-like guide to all the wonders of campus bicycling. And if you are a strict pedestrian, this can be your spy manual - an inside guide to the enemy.
The Four Players
When it comes to the University bicycle market, there are four names that say it all: University Bicycles (940 E. University), Racer's Edge (2623 N. Campbell), Bargain Basement (428 N. Freemont Ave.), and Fair Wheel Bikes (1110 E. 6th).
These four have dominated bicycle sales in the university area for years, and managers at each of the stores are the guys who were hit up for information for this article.
All four stores say that the biking industry in general might be slipping, but sales have remained solid at each of their stores, thanks to the scarcity of campus parking spaces.
The Perfect Bike
Students looking to enter the biking world need two things: a bike and a U-lock. All four players said that they can hook students up with both for under $200.
Students looking to get into some serious mountain biking can expect to pay a little more.
The bike will help you get in shape while you ride to campus. The lock will ensure that you'll have a way to get back home at the end of the day.
Ralph Phillips, manager of Fair Wheel, said that the U-lock is a necessity because it is the best prevention of theft.
"They came out about 10 years ago, and they are the best," said Phillips, who graduated from the UA with an economics degree in 1973. "Most bike thefts are a crime of opportunity. U-locks make it a lot tougher to take the bike."
Phillips also said that it's better to buy a bike with bolted-on wheels rather than detachable wheels.
Danger Zone
Pedestrians and bikers get into near-collisions on campus roads every day. The problem has gotten so dangerous that Phillips, an avid biker, no longer rides on campus.
"There was a lot less congestion back when I went to school here," Phillips said. "Now I'm afraid to ride on campus. So many pedestrians and drivers are oblivious to the fact that several people ride their bikes here."
The most dangerous part of campus for pedestrian-biker relations is undoubtedly the Park/Sixth/Tyndall square in the southwest part of campus.
"That intersection is the most dangerous on campus because cars, pedestrians, and cyclists all think that they own the area," said Reggie Romo, a manager at University Bicycles, and a molecular biology senior. "Maybe the city could restrict access to automobiles."
The antidote? Bikers who are aware of their surroundings and pedestrians who always use crosswalks and look both ways before they cross.
But let's get real - none of that is going to happen.
Helmets and elbow-pads for all.