Watts leads Huskies past Wildcats
By Associated Press
Arizona Daily Wildcat
February 5, 1999


Send comments to:
letters@wildcat.arizona.edu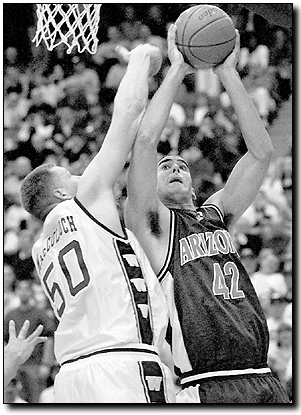 Associated Press
Arizona Daily Wildcat

Arizona's A.J. Bramlett (42) shoots past the defense of Washington's Todd MacCulloch (50) in the first half of last night's game in Seattle.


SEATTLE (AP) - Donald Watts wants to follow his dad, Slick, into the NBA. But first things first.

He'd like to help the Washington Huskies win their first Pacific 10 Conference title since 1985. Maybe that's not as far-fetched as it once sounded.

Watts scored 24 points and Deon Luton had 20 to help the Huskies hold off No. 10 Arizona for a 90-84 victory Thursday night.

''I was determined to get a win tonight,'' senior guard Watts said.

The Huskies (13-7, 6-4 Pac-10) overcame a 28-point performance by Jason Terry, the league's leading scorer.

''He (Terry) hit some shots but they weren't stopping us from scoring,'' Watts said.

Wildcats' senior center A.J. Bramlett wasn't too pleased with his team's defensive performance.

''Our defense was terrible,'' he said.
No. 10 Arizona vs. Washington State
(15-4, 7-3 Pac-10) (9-12, 3-7)
When: Saturday at 4 p.m.
Where: Friel Court, Pullman, Wash.
TV/Radio: Televised on the Fox Sports Network; Broadcast on KNST (790 AM)
What: Arizona has beaten Washington State 27 times in a row since Jan. 30, 1986. . .UA's 98 points in the win over the Cougers in Tucson was the most scored by the Wildcats this year. . .Richard Jefferson had career-highs in points with 25 and rebounds with 12 in the first meeting. . .Jan-Michael Thomas scored 34 points including eight three-pointers in that game.

After losing their first three league games, the Huskies have won six of seven in Pac-10 play, including three in a row. They beat No. 13 UCLA at home Sunday.

''We're not looking past Arizona State,'' Washington freshman Senque Carey said of his team's game with the Sun Devils here Saturday night. ''That's another huge game for us.''

Washington never trailed in splitting with the Wildcats this season. Arizona beat the Huskies 88-86 on Jan. 9 in Tucson on a tip-in at the buzzer by Richard Jefferson.

''I thought it was a great game like the one in Tucson,'' Washington coach Bob Bender said.

Washington led 45-39 at halftime and went ahead 58-41 with 4:40 gone in the second half by coming out with a 13-2 run. The Wildcats never got closer than three the rest of the way.

The Huskies led at halftime although Carey and MacCulloch sat out much of the opening half with two fouls.

Luton and Watts picked up Washington's scoring slack in the first half with 12 and eight points, respectively. Terry had 14 and Wright 12 in the opening half.

Luton hit a 3-pointer with 7:52 to go and then made a behind-his-head lay-up with 7:24 on the clock before sinking another 3-pointer with 7:18 left to put Washington ahead 32-18.
Starting Lineups
Arizona

SF 44 Richard Jefferson 12.3 ppg  
PF 21 Michael Wright    13.8 ppg 
C  42 A.J. Bramlett     14.2 ppg 
SG 22 Rick Anderson      2.2 ppg 
PG 31 Jason Terry       21.8 ppg 

Washington State

SF  5 Mike Bush           6.8 ppg 
PF 13 Kojo Mensah-Bonsu  13.2 ppg 
C  44 Eddie Miller       10.9 ppg 
SG  4 Jan-Michael Thomas 16.5 ppg 
PG 12 Kab Kazadi          3.9 ppg 

Arizona (15-4, 7-3) came back after falling behind by 17 twice early in the second half, at 58-41 and 60-43. But the Wildcats could never quite catch up.

After Terry hit a 12-foot turnaround jumper, the Wildcats trailed only 85-82 with 33.1 seconds left.

''If we had come out and played like we played in the last eight minutes we would have won,'' Terry, who is at home in Seattle, said.

Carey's two free throws with 28.9 seconds to go put Washington ahead 87-82. He added a free throw with 20.2 seconds left and Watts scored a driving dunk with 5.8 seconds left to give Washington a 90-82 edge.

Carey had 17 points and 7-foot center Todd MacCulloch had 11 points and 13 rebounds for Washington, which improved to 9-0 in Seattle this season.

Freshman Michael Wright had 19 points and 10 rebounds for Arizona, while Bramlett had 12 points and 16 rebounds.

The Wildcats had a 49-39 rebounding edge.