City parking crackdown still running full-force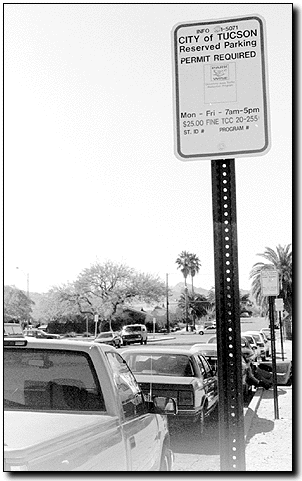 Jennifer Holmes
Arizona Daily Wildcat

Last week the city began a new parking program that requires a permit to park curbside in spots that were previously free around campus. In the first week almost 200 tickets were issued at $25 each.


A Tucson parking official said the city plans to continue heightened enforcement - after one week of raking in nearly $5,000 from ticketing permit-less cars on UA-area streets.

Parking enforcement officers last week wrote an average of about 20-50 tickets on the University of Arizona campus each day, totaling about 190 by Friday, said Chris Leighton, Tucson Parking Program coordinator.

Leighton said he does not "really want" his people to be writing tickets, but without giving citations, "it becomes a problem."

He added that compliance has been "better" than anticipated.

Permit sales have been solid, and Tucson parking administrators have "no major complaints," Leighton said.

"It's going pretty well," he said. "People are still coming in ... and buying them. I guess they figured out we're not going away."
By the Numbers
Number of tickets issued
190 Amount city charges per ticket:
$25 Total cash amount for tickets issued
$4,750 Number of permits sold
315 Number of permits still available
190 Source: Tucson Parking Program Coordinator Chris Leighton

As of Friday, the city had sold 125 out of the 315 spots available, Leighton said. Permits cost between $150 and $300, based upon the days that a buyer will be parking.

Leighton has said that permits are not expected to sell out during the program's first year.

The UA and Tucson haggled last semester about the city's plan to sell permits for previously-free spots on core campus streets. In November, both sides reached an agreement through which the university offered concessions in exchange for control of all streets between East Speedway Boulevard, East Sixth Street, North Campbell Avenue and North Park Avenue.

Under the agreement, the UA stopped squabbling about the city's plan to impose permits on streets in northern, southern and western areas of the university's boundaries.

Associated Students President Tara Taylor, who has repeatedly voiced her opposition to the city's permit plan, said she is "definitely" opposed to the program. She added, however, that ASUA has yet to formally discuss the issue this semester or decided on a course of action to combat the city.

Taylor said she advised two students who sought her advice to purchase parking permits from the University of Arizona rather than the city.

ASUA had only a "handful" of formal complaints from students, but has heard "grumbling" around campus and intends to do something about it, Taylor said.

"I bet people are just parking farther away," she said. "It's hard enough to find a space."

Jason Ruybalid, a management information systems graduate student, said Tucson's permit spaces have lengthened his walk to classes everyday.

"I think its a big pain," he said. "It pushes you back at least four blocks."

Ruybalid added that he did not know anyone who had purchased a city permit.

"I haven't heard of anyone who's given in to this," Ruybalid said.

But Cheryl Throneberry, also an MIS graduate student, said she thought the city's program is "fair" if it ensures that residents of the north university neighborhoods have a place to park.
---