Wildcats begin tough season stretch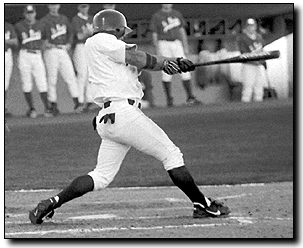 Nicholas Valenzuela
Arizona Daily Wildcat

Junior center fielder Troy Gingrich (2) stands at bat during the game against St. Mary's Jan. 22 at Frank Sancet Field. The Wildcats face UNLV today and tomorrow at 3 p.m.


The Arizona baseball team (9-0) got a nice break Sunday when they took on and eventually beat the all-pro alumni team 6-4.

After taking the day off yesterday, the Wildcats, who are ranked No. 21 by Collegiate Baseball, are back to business as usual today as they take on the UNLV Runnin' Rebels (2-1) in a 3 p.m. game at Frank Sancet Field.

Last year, the Wildcats were beaten twice by the Rebels 6-3 and 8-6 in Las Vegas, starting an 11-game losing streak for Arizona after they started the season 25-5.

"I hope the older guys teach the younger guys and let them know what happened," UA associate head coach Bill Kinneberg said.

The Wildcats, who by winning their first nine games of the season are off to the seventh best start in the program's history, will have to find a way to stop UNLV's preseason All-American outfielder Ryan Ludwick.
Arizona baseball starting line-up
1. CF Troy Gingrich .189, 4 RBI, 6 SB
2. SS Keoni DeRenne .488, 8 RBI, 6 SB
3. 3B Erik Torres .293, 2 HR, 9 RBI
4. 1B Ernie Durazo .267, 6 RBI
5. RF Shelley Duncan .333, 3 HR, 11 RBI
6. LF Kenny Huff .300, 1 HR, 7 RBI
7. DH/P Ben Diggins .238, 4 RBI
8. C Dennis Anderson .459, 2 HR, 14 RBI
9. 2B Andy Juday .324, 1 HR, 10 RBI

"Ryan Ludwick is a great player, but they have eight other guys who are good college players, too," Kinneberg said. "No matter who is pitching you don't just worry about one guy, but obviously if there is a game-winning situation we hope Ryan is not at the plate."

Ludwick, who is hitting .600 with five RBI and has five walks early in the season, is rated as the 20th best prospect by Baseball America.

The job of holding Ludwick in check and shutting down the rest of the Rebels will go to freshman pitcher Ben Diggins (1-0, 4.91 ERA) today and junior Mike Crawford (2-0, 1.00 ERA) tomorrow afternoon.

Arizona relief pitchers have held opponents to just 28 hits in 42 innings. The Wildcats will also try to shut down the UNLV offense, which has scored 36 runs in just three games this season.

"UNLV is a step above New Mexico in my mind," Kinneberg said. "They have quite a few of their guys back including Ludwick and (Tony) DeMarco who were their three and four hitters last year."

The UNLV game begins a stretch of five games in six days for Arizona, including a series against Texas A&M, which is ranked 14th in the USA Today/ESPN Coaches Poll.

"I think the first test was against New Mexico and they passed that with flying colors," Kinneberg said of UA's pitching staff. "Now I have been looking at this week and next week and hopefully we will have our rotation all figured out by the end."

As for the Wildcats' offense, the lineup will probably remain the same with junior Troy Gingrich leading off followed by sophomore shortstop Keoni DeRenne, who Saturday in the fifth inning became the fastest Wildcat to 100 hits as he did it in just 269 at-bats, breaking Chip Hale's record of 313 at-bats.