Arizona uses defense, rebounding to win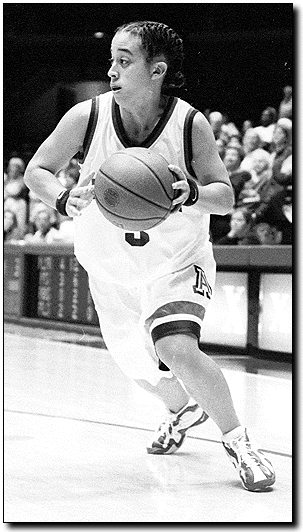 Nicholas Valenzuela
Arizona Daily Wildcat

Junior guard Lisa Griffith (3) drives towards the basket during the game against Washington last Thursday night at McKale Center. The Wildcats won 84-58 over Washington and 85-64 over Washington State Saturday night.


The UA women's basketball team got revenge against Washington and Washington State this weekend at McKale Center, using two of its weaknesses as the keys to both victories - rebounding and defense.

UA defeated Washington Thursday night 84-58 and beat Washington State Saturday night 85-64. Against the Huskies, Arizona out-rebounded the Pacific 10 Conference's leader in rebounding margin, 39-32. Arizona out-rebounded the Cougars 40-36.

"Everyone's playing like a team right now," UA junior guard Lisa Griffith said. "When we play hard and together, we're awesome."

Griffith set the UA record for most career three-pointers (190) against Washington State.

Arizona shot 7 of 10 from three-point range against the Cougars. The Wildcats' overall field goal percentage was 51 percent.

Defensively, the Wildcats held the Huskies and Cougars to 43 percent and 37 percent shooting.

Junior guard Felecity Willis was assigned to defend Washington State's top scorer, Tricia Lamb, who was averaging over 17 points per game. Willis held Lamb to 2 of 16 shooting and four points.

"Every possession, I was on Tricia Lamb," Willis said. "She started to get frustrated and she started throwing elbows. On top of that, her shots didn't fall. She challenged me and I challenged myself."

Junior guard Angela Lackey had a double-double against the Cougars, scoring 20 points and grabbing 11 rebounds.

"I challenged Angie to get another double-double," Bonvicini said. "She missed some easy ones but rebounded very well."

Bonvicini has been impressed with Lackey's work ethic this season. She has been asked to do more since junior forward Tatum Brown was ruled ineligible for the remainder of the season.

"Angie's really learned how to be a worker and now she's playing very well," Bonvicini said.

The weekend sweep puts Arizona on a three-game winning streak going into its next game Saturday at Arizona State. That and UCLA's loss at Oregon, a team the Wildcats beat at home, has put the team in a confident mood.

"You're only as good as your last game. You can't look back to what you did in the past, you've got to look forward," Bonvicini said. "If anything, UCLA's loss showed the parity of our conference."