UA mirror telescope reflects progress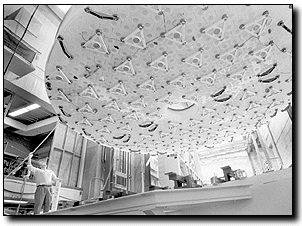 Wildcat File Photo
Arizona Daily Wildcat

About a dozen university scientists are making a mirror that could be in NASA's new telescope, the Next Generation Space Telescope. The first draft of the model is almost complete.


The Steward Observatory's on-going mirror project is no longer a sketch on the drawing board.

A dozen University of Arizona researchers have been working since 1997 on a "rough draft" of the mirror, which is nearing completion, said James Burge, an assistant optical sciences professor.

"We did the quick and dirty thing," Burge said of the initial steps toward fashioning a mirror for NASA's Next Generation Space Telescope.

Daniel Watson, a Steward Observatory research specialist, has been dispatched by the University of Arizona research team to shop for a 700 pound chunk of glass.

Once Watson chooses his material, the glass will be shipped from the Japan-based Ohara glass company to the UA, Burge said.

The hefty piece of glass will be shaved down into an 80 pound mirror that will be tested at 470 degrees below zero in the Marshall Space Flight Center in Huntsville, Ala.

"There is no (other) place in the world to test something so cold," Burge said.

The UA research team will compete with two private-sector companies in 2002 to develop the telescope that could help scientists determine how the first stars and galaxies evolved.

Burge was optimistic about the university team's odds against Composite Optics, Inc. of San Diego and Ball Aerospace Corp. in Colorado.

"We happen to have the key technology; we feel we can implement (it) into NASA's schedule and budget," he said.

The contractor in charge of constructing the telescope will choose among the competing mirrors. Two companies, TRW-Ball and Lockheed-Martin, are vying to be named the telescope builder by NASA.

Burge said the competition among the three teams is healthy and there will be no hard feelings among them when a decision is made.

"If other technology ends up being less costly to implement, then that's good for the program," Burge said. "We're rooting for our competition with technology."