Douglas, Wilson charged with stopping high-scoring guard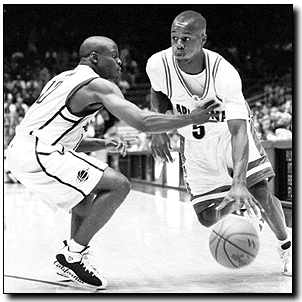 Tanith L. Balaban
Arizona Daily Wildcat

Freshman guard Ruben Douglas (5) drives toward the basket against California junior guard Raymond King (10) at McKale Center Jan. 30. Douglas and freshman guard Traves Wilson (11, not pictured) doubled up defensively against Washington State's leading scorer Jan-Michael Thomas, holding him to 7 points on 3 of 11 shooting.


With six out of their last eight games at home, the UA men's basketball team is looking forward to getting things back together after a rough trip to Washington over the weekend.

Despite beating Washington State Saturday to earn a split of the weekend series, the Wildcats never really found their groove, committing 35 turnovers and shooting under 50 percent from the floor in the two games.

Senior point guard Jason Terry was forced to shoulder the load again, going 20 for 46 from the field and playing all 80 minutes.

But if there was one silver lining from the trip, it was that freshmen Ruben Douglas and Traves Wilson doubled up for their best defensive performance of the year, shutting down the Cougars leading scorer Jan-Michael Thomas to 7 points on 3 for 11 shooting.

Both Douglas and Wilson had temporarily fallen out of favor with head coach Lute Olson for defensive lapses and the shooting guard position had been considered a weakness in the Wildcat lineup.

"(The defense) was the most positive thing we've seen out of that position all year long," Olson said. "I'm very happy about the job Ruben and Traves did making it difficult for them to catch the ball."

Olson said he hopes the two can continue the defensive intensity being that they will have to guard Eddie House when the No. 10-ranked Wildcats (16-4 overall, 8-3 Pacific 10 Conference) take on Arizona State (13-10, 5-6 Pac-10) at McKale Center tonight at 8:37.

House, who is second in the league in scoring with 19.4 points per game, has scored at least 20 points 11 times this season, including a career-high 39 against UNLV Dec. 5.

"We're trying to make sure we don't give Eddie House more than we did to Jan-Michael Thomas," Olson said, "but it's tougher because House can put the ball on the floor."

ASU sophomore point guard Alton Mason has also developed the confidence to drive the ball to the basket and is getting more comfortable taking control of the offense in his first year with the team.

"Last time around (a 74-73 UA win in Tempe), Mason did a good job penetrating against us and we need to do a better job containing him," Olson said.

As if dealing with the outside threats of Mason and House weren't enough, the Arizona post unit of Michael Wright, Eugene Edgerson and A.J. Bramlett will have to deal with the unorthodox Sun Devil big men.

While Bobby Lazor and Mike Batiste can play the standard post-up offense, both are also adept at shooting from long range, forcing to the Wildcats to play farther away from the basket than they are used to.

Lazor is averaging 17.6 points per game while Batiste has averaged 17.1 points per game since sitting out the first semester due to academic difficulties. Perhaps even more daunting is that Lazor shoots 38 percent from three-point range and Batiste, at 6-foot-8 and 230 pounds, is leading the Pac-10 in three-point percentage in conference games at 52 percent.

Edgerson said the key to stopping Lazor and Batiste was simple.

"Just don't let them catch the ball," Edgerson said. "If you deny them the ball all over the court, they won't be effective."

Edgerson said the Wildcats figured that lesson out after the first half of the first meeting between the two teams, when both Batiste and Lazor had productive first halves.

"Last game, they didn't catch the ball in the second half and they weren't a factor," Edgerson said.

As for stopping the penetration into the lane, which UW guard Donald Watts used for a significant Huskies advantage in beating Arizona last Thursday, Edgerson said the UA guards would just have to play to their opponents' strength.

"Guys have to think and use their heads," he said. "You have to know your opponents' strengths and weaknesses. If the guy can shoot, make him drive. If the guy can drive, make him shoot."

Olson, though, pointed out that while Batiste and Lazor's shooting ability would present problems for the UA defense, the converse would be true in that the Sun Devils don't really have anybody to guard Bramlett and Wright.

The head coach said ASU would probably have to use a 1-3-1 zone to "counter balance our inside strength," and that they would probably use a box-and-1 to stop Terry, something nobody has accomplished as yet.

"Thank goodness for JT and his ability to come up with the big plays for us," Olson said. "This is the time for us to get everything going in the right direction for a strong finish."