Elections head seals document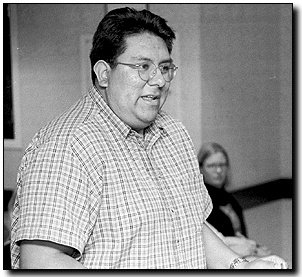 Matt Heistand
Arizona Daily Wildcat

ASUA Elections Commissioner Anthony Hill speaks during last night's Senate meeting in the Memorial Student Union Tucson room. Hill said he is concerned about the low number of candidates in the upcoming primary elections.


ASUA Elections Commissioner Anthony Hill last night denied access to documents that pertain to the organization's upcoming elections.

Hill did disclose, however, that the private papers concern the Associated Students administrative vice-presidential post.

"They (the documents) pertain to current candidates and current officials in the administrative vice-presidential race, but in addition, it involves other ASUA officials," Hill said.

He refused to elaborate on the meaning of "current and ASUA officials."

When asked if ASUA election code had been violated by any prospective senators, executive vice-presidential candidates or presidential candidates, Hill said no infractions had taken place.

But when questioned about either of the administrative vice-presidential candidates possibly breaching the code, Hill answered "no comment."

"There are documents, but that's sealed and I can't discuss what's in that," Hill said. "I'm gagging myself and I'm gagging the document."

Hill's said that both administrative vice-presidential candidates could speak about the situation, but both refused to directly comment about the papers.

One candidate, political science sophomore Kelly Dalton, said she did not break any rules.

"I have not violated any campaign codes," Dalton said. "From the little I do know of the situation, Anthony Hill is handling it in a fair manner."

Viviane Safrin also refused to offer details about the sealed documents and declined comment when asked if she violated election code.

Safrin, a psychology, English literature and history sophomore, said the papers are being withheld to "avoid having someone's name put in the (Arizona Daily)Wildcat for something that had no bad intentions."

"It can be viewed in the wrong way and Anthony saw that it would be," she said.

Safrin added that Hill would have eliminated the alleged violator from the race if the matter were problematic.

"If it we're something that's a big deal, somebody would have been disqualified," she said. "It's been sealed to prevent unnecessary mudslinging."

Dalton is the current Arizona Students Association director and Safrin is ASUA's community development director.