Student body to hold primary election on pre-set deadline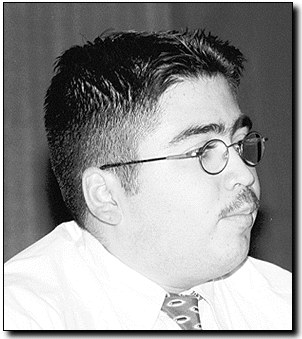 Wildcat File Photo
Arizona Daily Wildcat

"I don't think it's logistically or realistically possible for 10 senators to represent all of the students." Josue Limon Associated Students Senator


Despite a shallow candidate pool, the ASUA Senate last night voted against a motion that would push back the candidacy filing date for this month's primary race.

"To maintain credibility, ASUA needs to provide a sufficient amount of candidates," said Associated Students Sen. Josue Limon. "Students need options to see who is going to be representing them."

With only 15 prospective senators and six candidates for executive-level offices on the Associate Students Feb. 23 primary election ballot, Limon moved to postpone the deadline for filing papers until tomorrow.

However, ASUA Elections Commissioner Anthony Hill said he felt "strongly against" postponing the date because it could "damage" the electoral process.

Latecomers "had their opportunity and they missed it," Hill said. "Those people that were interested did come."

Students who missed the deadline have only themselves to blame, said ASUA Sen. Maria Rodriguez.

"I don't want to sound arrogant...but there are deadlines in everything we do," she said.

Hill said he was not sure if the cause of the slim primary pickings was "general apathy" toward ASUA or just a statistical anomaly.

But, Limon said "this is the worst it's ever been."

Nevertheless, Limon's motion failed 2-5-1 with Sen. Ben Graff abstaining.

The low candidate turnout, Limon said, is a symptom of a problem that ASUA has not addressed.

"The Senate is not really the voice for the student body," he said. "The students probably think we're kidding ourselves."

To address the matter, Limon asked the Senate to suspend its rules - an apparent violation of the organization's constitutional guidelines that hold ASUA to Arizona's Open Meetings Law. The Senate voted unanimously to discuss the item despite its absence from the official agenda.

"People are more important than rules," Limon said after the meeting.

Limon called for a discussion of ASUA's problems, allowing the other senators a chance to unload their concerns.

"I don't see how the programs we have are accomplishing things that students want or even need," said Sen. Marisa Hall, who called for a "rehaul" of the organization's system.

Limon said he would like to incorporate all students' opinions into ASUA's activities, but the "hard truth" is there are too many students on campus to receive all their input- especially in a one-year term.

"I don't think it's logistically or realistically possible for 10 senators to represent all of the students," he said, before offering the alternate idea of assigning senators to represent different segments of the population. "Otherwise you'll just get bombarded."

Limon added he was not "attacking" anybody in particular, but rather just trying to "make things better."

After the meeting, Limon said ASUA needs to institute changes that make senators more accountable to students.

"There really is nothing that holds you accountable besides your own integrity," he said.

In other business, Rachel Reinhardt, assistant director of ASUA's Escort Service, asked for additional funding for the safe-ride program.

"A lot of you, when you ran, said escort services were important," she said.

An average of about 200 people each night utilize the Escort Service, an increase from last year of about 40 people per night, Reinhardt said.

Because of this increased demand, the Escort Service needs to rent a van from the UA motorpool - at a rate of $133.76 per week - in addition to the one already in use.

Reinhardt said without the added vehicle, the safe-ride program will be unable to "maintain the service that we've come to expect."