UA community reflects on ASUA president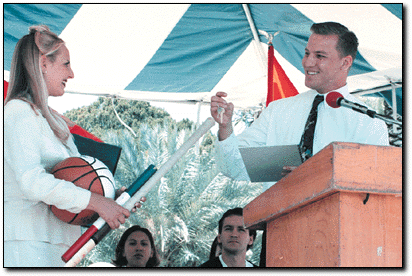 Wildcat File Photo
Arizona Daily Wildcat

Former ASUA president Gilbert Davidson (right) gives incoming ASUA president Tara Taylor the spirit stick and keys to her new office on the UA Mall during inauguration last year. Co-workers and administration say that Taylor has been an effective and well liked representative for the student body.


by Michael Lafleur

When ASUA President Tara Taylor leaves office in May, she will have influenced many people on the University of Arizona campus - how they remember her will determine her legacy.

Taylor is well-liked by most of the people who have come in contact with her, though she has been accused of carrying on the Associated Students presidential tradition of maintaining the status quo.

"I feel blessed and honored," Taylor said of her year in office. "It's been a wonderful ride."

University of Arizona administrators and ASUA officials who worked with Taylor have expressed their respect.

"I have been impressed by her ability to articulate the issues and to understand my perspective, even if she felt obliged to take a contrary view in the interest of her student constituency," said UA President Peter Likins through an e-mail interview.

But the comments of undeclared freshman Kevin Meehan emanate from a far different end of Taylor's public opinion spectrum.

"I didn't really know she was our president," Meehan said.

Taylor said the lack of knowledge about student government at the university reveals an endemic problem with ASUA.

"I think that says a lot about me and I think that says a lot about ASUA," she said. "It's not all their fault, we need to exert a little more effort in getting the word out on who we are and what we're here for."

Taylor's presence on many administrative committees has given some of her colleagues cause to criticize both her and ASUA in general.

"Unfortunately, presidents do too much meeting with administrators and not just students," said ASUA Sen. Josue Limon. "They just do a lot of talking" in the meetings.

Taylor agreed that she would like to see administrative committees engage in more activity and streamlining.

"Better use could be made of our time by centralizing some committees," she said. "I don't think it's a waste of time but I do think it could be improved upon."

Limon agreed it was necessary for students to have representation on the UA's administrative committees but added, "it's one thing to be a token - it's another to get in their face."

"I don't think she significantly rocked the boat for the students as a whole," he said.

However, Taylor said "yelling and screaming" is not always the best course of action.

"Why should you have an open confrontation unless it's something that's very controversial?" she asked. "In this position, you need to find the middle ground not because you want to be in bed with the administration but because you want to see things happen for students."

According to Taylor's campaign platform, her search for the middle ground should begin with decreasing student drop-out rates by improving academic advising.

To date, no formal gains have been made, but Taylor and one of her cabinet members has been working on a plan, she said.

"It was such a big project to undertake," Taylor said.

Taylor has devised a plan to improve advising on campus which she will present to administrators later this month, she said.

"We hope to gain a more uniform system," Taylor said. "The system doesn't make sense now."

Taylor has also been involved with many issues that were not included in her campaign slogans.

Likins said Taylor has been "particularly effective" at urging him to seek an alternative to a student fee for financing the Memorial Student Union construction project.

Associated Students Adviser Jim Drnek agreed that Taylor's accomplishments with the Union renovation have been a crowning achievement in her presidency.

"She was committed to not having a fee assessed," Drnek said. "She said from the start, 'I'm not in favor of a student fee.'"

He said UA officials have been receptive to Taylor's contention that students should not be required to fund the new Union.

"I think it's going in the direction of no fee but I'm not sure," Drnek said. "It looks like it worked out."

Taylor said she has been "lobbying the administration strongly" on the matter, but added a final decision has yet to be made.

Drnek, who has been with ASUA for six years, said Taylor is "one of the best" presidents with whom he has worked.

"She was a bridge between students and administration," he said.

Taylor was also involved in coordinating opposition to the city of Tucson's planned sale of parking permits on many UA campus streets last semester.

Her efforts were augmented by those of Marlis Davis, UA director of Parking and Transportation Services, helping Taylor's administration to reach a compromise with the city, giving the UA control of streets bounded by East Speedway Boulevard, East Sixth Street, North Park Avenue and North Campbell Avenue.

"I found her to be very logical thinking and fair," Davis said. "I think she thought things through before she took her stand. She definitely helped with the Tucson situation."

Davis, who has been at odds with Taylor about parking-related issues, said the president always presented well-reasoned arguments.

"I think her views were well thought out and whether they agreed with mine doesn't make a difference," she said.

Limon said Taylor's stance against Tucson's proposed parking plan in November seemed out of her normally amicable character.

"I was surprised when she put her foot down on the parking thing," he said. "But, at the same time no one has really followed through on that."

Tucson has been enforcing its sale of permits on streets in northern, southern and western areas of campus since Feb. 1. Taylor objected to the city program but ASUA has yet to formally discuss a plan to deal with it.

Limon said that Taylor has done " a good job of making ASUA one cohesive group."

ASUA Executive Vice President Cisco Aguilar said Taylor's presence has helped to improve the organization's work environment.

"When I came in here as a fresh face, I was frightened at first just because of animosity between individuals at ASUA," Aguilar said, adding that the tense atmosphere is gone.

Aguilar said Taylor's demeanor is calm and polite. While her administration was well-structured, she was very personable, he added.

"She didn't have the stigma of being the president," Aguilar said. "Tara consulted a lot with how the Senate felt, how the cabinet felt."

Taylor said it is in her nature to be accessible and friendly.

"That's just my style of working with people," she said.

But some of Taylor's constituents did not have such high opinions of their president.

"I know she's done some stuff, but there really isn't anything significant that hasn't been done already," said Richie Tang, a media arts and communication sophomore. "There's nothing new about anything and I don't feel they (ASUA) represent the students well."

Journalism senior Shannah Childress thought Taylor did a fine job promoting student issues.

"I really wouldn't have a bad opinion of her," Childress said. "I know that she was an advocate for a lot of things - the tuition thing sticks out."

Limon attempted to sum up Taylor's tenure as president.

"At least it wasn't as bad as past leadership," he said, "because it has been bad."