Rugby falls short against Cal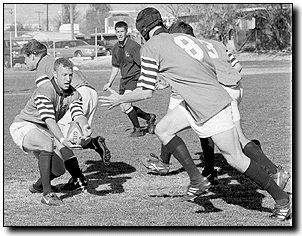 Leigh-Anne Brown
Arizona Daily Wildcat

Senior halfback Mike Fair (9) tosses the ball to attackman Dan Duncan (8) during Saturday's game against California at Estevan Field. The Wildcats lost 36-29 to the Bears, who have been national champions for the past 10 years.


If there was ever a time to feel positive after losing for the UA rugby team, it was after Saturday's 36-29 loss to defending national champion California.

In a seesaw battle that witnessed four lead changes in the second half, Arizona played its most "intense" game of the season.

"If we had played with this intensity against UC-Santa Barbara last week, we would have put 45 points on the board," head coach Dave Sitton said.

What made UA's effort even more remarkable was that Cal jumped out to an early 21-0 lead.

Zack Harrison got the Wildcats on the board with a field goal in the first half to cut Cal's lead to 21-3. Anthony Raymond scored Arizona's first try to leave the score 21-10 at halftime.

John Shumway and Chris Kron sparked the Wildcats' second half comeback effort. As Shumway and Kron worked through the Cal defense, senior scrum-half Mike Fair was able to break free and score Arizona's next try to cut Cal's lead to 21-15. Senior center Al Lakomskis scored the next try and Harrison made the conversion to give the Wildcats their first lead of the game 22-21.

After a Cal score put the Bears up 26-22, Arizona fought back into the lead as junior eight-man Dan Duncan scored his first try of the game putting Arizona up 29-26. It was the last time the Wildcats would score as California would add two tries in the game's final four minutes to win.

"This game was played at a boil," Sitton said. "We have to find a way to play every game at this level."

Men's volleyball sweeps tournament field

The No. 1-ranked Arizona men's volleyball team (18-3) swept its own tournament this weekend, defeating Illinois 15-11, 15-4 in the championship game Sunday at the Student Recreation Center.

"It was kind of a strange tournament, where we started real slow," said setter Steve Walker, who was named tournament MVP. "We improved as the tournament went along. We're the kind of team that plays to the level of our opponent. If we feel threatened we turn it up a notch."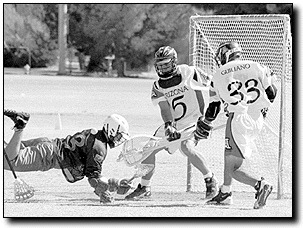 Leigh-Anne Brown
Arizona Daily Wildcat

Freshman goalie Jesse Carlaftas (5) and junior defenseman Phil Guiliano (33) block a shot attempt by a Tucson Lacrosse Club player in Saturday's game at Wildcat Field. The Laxcats won 10-2.

Arizona's first match against Colorado State, a 17-16, 15-8 win, was the only close match the Wildcats played throughout the tournament.

"I think on the first day we were kind of lethargic, weren't real crisp," assistant coach Skip Greenburgh said. "On the second day we were a lot more focused, a lot more on task."

Arizona stomped Northern Arizona 15-9, 15-4 and Wisconsin-Osh Kosh 15-8, 15-5 to complete pool play on Saturday.

The Wildcats then rolled past Colorado 15-4, 15-8 in the quarterfinals before facing rival Arizona State in the semifinals, a 15-9, 15-7 win.

"I think personally it wasn't until the semifinals until we played Arizona State," Walker said in regards to when the Wildcats first got fired up. "We got really focused and really ready to go into that match. We weren't going to let ASU beat us on our own court and it carried over into the championship with Illinois."- Chris Jackson

Laxcats dominate Tucson Lacrosse Club

Heading into their exhibition game against the Tucson Lacrosse Club, the UA Laxcats were looking for a game that was based on team play and solid defense. The Laxcats achieved their goals as they defeated the TLC 10-2.

Head coach Mickey-Miles Felton said the Laxcats accomplished their mission of improved togetherness. The Laxcats jumped out to an early lead as freshman attackman Blane Lochridge scored two first quarter goals en route to a hat trick.

The TLC jumped back into the game with a goal of their own only 15 seconds into the second quarter. Later in the second quarter, TLC's Jerry Boston reduced Arizona's lead to 4-2. The Laxcats then rattled off eight unanswered goals.

Although frustrated by the tenacious play of TLC defenseman Matt Rhodes, senior attackman Dan Price added a hat trick of his own for the Laxcats. Price also had two assists in the game.

The biggest improvement for the Laxcats was their defensive play. Arizona regained the services of sophomore defenseman Tom Christian, who returned from offseason knee surgery to see his first action of the year. Felton said that freshman goalie Jesse Carlaftes played his best game of the season for the Laxcats. Felton added the defense as a whole in front of Carlaftes kept the TLC from getting easy looks at the goal.

"Laurance Bass, Phil Guiliano, Kevin Tripp and Charlie Hitchins were major contributors to our defensive effort," Felton said.

Carlaftes finished with 10 saves in the game, and in the fourth quarter the Laxcat defense held the TLC to only one shot. - Chris Reimer

Women's lacrosse goes 2-3 in shoot-out

The Arizona women's lacrosse team came to life on the second day of the Santa Barbara Shoot-out to pull out two wins.

The Wildcats rebounded from a 5-0 deficit to UC-San Diego and scored nine unanswered goals en route to a 9-5 win.

Coupled with a 6-5 victory over UCLA that same day, the win gave Arizona a 2-3 record at the exhibition tournament.

"On the first day it was the same team (as last week)," UA head coach Josh Dreiband said. "No intensity, kind of heartless, but by the end of the first day they started to get some heart going. On the second day they were playing like they wanted to play."

Arizona opened the tournament with losses to two adult club teams and to UCSD, but behind senior defender Maren Henley and an improved performance in goal by freshman Kim McDonough, rebounded and won both games Sunday.

"Maren Henley saved us," Dreiband said. "She made a great individual play at the end of the UCLA game. They came down on a fast-break on a three-on-two, and she ended up knocking down a pass as the clock ran out." - Chris Jackson