Piano woman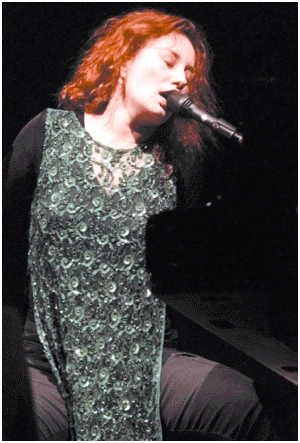 Nicholas Valenzuela
Arizona Daily Wildcat

Amos sings a song during her performance at America West Arena Sunday night.




Tori Amos is a serpentina.

At least, that's what the members of her band informed her just before her performance at America West Arena in Phoenix Sunday night.

She explained to the crowd that she still wasn't sure if being a serpentina is a good thing or not, but if there was any doubt before the show, Amos' slinky, raucous, emotionally-charged performance proved that it is most definitely an envious state of existence.

Tori's current Plugged '98 tour marks the first time she has taken a full band out on the road with her, and it's something she uses entirely to her advantage. Older, familiar songs that formerly relied heavily on their piano base become almost new creatures - something that was apparent right from the opening sensual assault of "Precious Things" - while newer numbers, like "iieee," display the added multi-instrumental layers of depth to Amos' current mode of songwriting.

Where past tours found Tori chained constantly to one key-driven instrument or other, when playing a song like "Cruel," her body was suddenly free, allowing her to move and pose in a way that evoked images of hidden powers and mystic rituals from a long lost culture.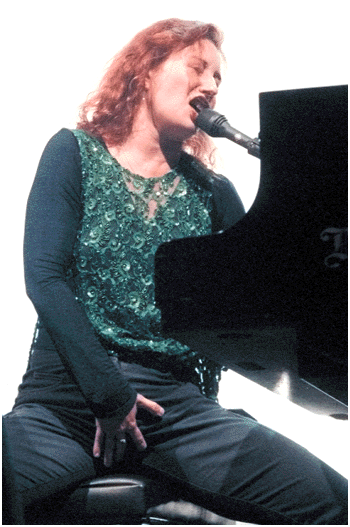 Nicholas Valenzuela
Arizona Daily Wildcat

Tori Amos sings while playing her piano at the beginning of her set, which lasted for about an hour and 40 minutes.


And Tori is equally enchanting when she's playing, as well. It's an intense experience to watch her at the piano, to see the way she becomes one with the instrument, they way she moves on the bench and lets the magic flow through her fingers. And some of the most powerful moments of the show came during her brief solo set, where she played two songs: "Happy Phantom," and the painfully sad "Marianne," a song which seemed to send a collective chill through the crowd.

Where many acts seem out of place in such a large venue, Tori seems almost custom-made for arena shows. True, it is a wonderful experience to see her in a more intimate setting, but part of her appeal is the way in which she can make even a place as large as America West seem intimate. Chatting with the crowd, telling stories, dispensing bits of wisdom such as the highly revealing, "Lucifer is a woman," Tori has the power to make thousands of people feel like they're all her friends, like she really loves every single one of them.

The one surprising omission from the set was "Jackie's Strength," the stunningly beautiful new single off Amos' latest release, "from the choirgirl hotel." However, after wonderfully evolved renditions of songs like "The Waitress," "God," "Talula," and the show's highlight, "Cornflake Girl," which featured a touching new intro, no one was complaining.

Seeing Tori Amos live isn't just a great experience for the music, either - it's also a chance to experience Tori, the person; a woman who is in some way in touch with a side of reality most of us never see.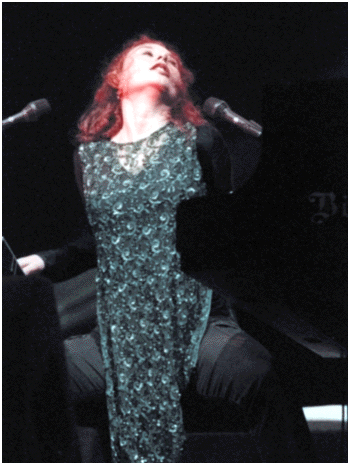 Nicholas Valenzuela
Arizona Daily Wildcat
Amos rocks between both her piano and electric keyboard, tossing her head back during the opening number.