'Sam' on it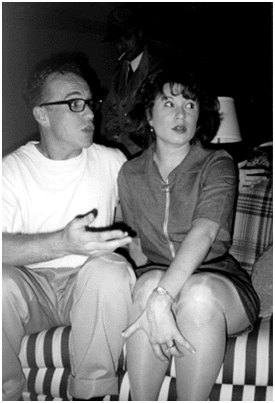 photo courtesy of Live Theatre Workshop

(From left) Ted Neroda, Christian Armstrong and Jo Dee Kaser, from Live Theatre Workshop, tell the folks to "Play it Again, Sam" in a play with the same name.




Ever dated? Ever had your heart broken? Looking for the love of your life? Anyone who has ever ventured into the dating foray will find Live Theatre Workshop's latest mounting of Woody Allen's "Play It Again, Sam" especially poignant. Using comedy as his vehicle, Allen makes some very good points about love and life, and although it was written and set in the late 1960s, this play is still extremely relevant today.

Character Allan Felix, a neurotic film critic, is recently divorced at 29 and dating again, while trying to forget his ex-wife Nancy. However, previous loves are often difficult to put behind, especially with Allan's active imagination which constantly conjures up the past and Nancy - who tries to sabotage his dating attempts, albeit as a kind of memory-induced phantom state. However, Allan has Humphrey Bogart on his side, in his imagination, as an adviser on matters of wooing a girl.

Add to this mix Allan's best friend Dick and his equally neurotic wife Linda. Dick is a "shrewd" businessman who is constantly on the phone and, although he loves his wife, he has been neglecting her between trying to manage his radioactive land or quicksand-riddled golf course. As for Linda, as Dick puts it, she "gets emotionally involved in a weather report." But whenever Allan hits a crisis, Dick and Linda are there to help.

Through the course of the play, Allan experiences one romantic setback after another, as he tries to find love at the disco and the museum. How many people have tried that route? Finally, he realizes he doesn't have to try so hard and all he needs is to be himself.

Ted Neroda does a admirable job playing Allan Felix, making the bumbling character believable. Dick, played by Bruce Bieski, was a joy to watch, bringing to life a plausible character while adding the necessary exaggeration that makes his character funny. Jo Dee Kaser does a good job of animating Linda. The on-stage chemistry between Neroda and Kaser is also wonderful to watch. Christian Armstrong, who plays the romantic icon Humphrey Bogart, seemed a little stiff at the beginning of the evening but as he loosened up, his portrayal was much more entertaining. The actors seemed tentative at the beginning of the show but as they warmed up to the audience, the show was a treat to watch.

James Mitchell Gooden has directed a commendable show, cleverly using the single set of Allan Felix's apartment to suggest locations like the disco, the museum and Central Park.

This is a feel-good romantic comedy that everyone can enjoy.