Reveling in Garbage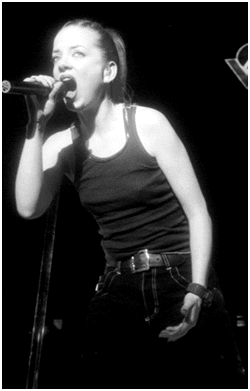 Nicholas Valenzuela
Arizona Daily Wildcat
Garbage's lead singer Shirley Manson performs on stage Monday night in Tempe at Hayden Square in support of their sophomore album, Version 2.0.
To Shirley Manson, Tempe is exotic.
"They don't have trees like that where I'm from," she told the crowd gathered in Hayden Square for Sunday night's Garbage concert, looking out at the palms that dotted the area. Just goes to show how easy it is to take things for granted.
Shirley, Butch Vig and company were in Arizona as part of their tour in support of Version 2.0, the band's latest release.
Fans flocked from around the state for the show, which took place under the stars in the open space outside of Gibson's. The band played at the top of the steps, which served as a makeshift stage, also allowing Manson to move up and down toward the crowd as the fancy struck her.
The set featured an even mix of old and new songs, starting off with the lead track on Version 2.0, "Temptation Waits," then continuing on to include all of the band's hits. "Only Happy When It Rains," "Milk," "#1 Crush," "Stupid Girl," "Push It," "I Think I'm Paranoid" and more worked the crowd up into a frenzied state, while Manson prowled and shadowboxed around the stage.
The highest points of the show were a captivating rendition of "Queer," full of the seething sexual energy that made it such a great song in the first place, and an unreleased ballad ("Supernatural"?), which was dedicated, in all seriousness, with genuine sadness, to the Green Bay Packers.
An unexpected added bonus came for a lot of people attending the show, too. Eagle Eye Cherry was doing a show that night as well, right inside, at Gibson's. Holding his set until Garbage finished their own, the club then invited anyone with a wristband to come in and watch him play for free.
Two cool shows for the price of one. Not a bad deal at all.