Simple Bicycle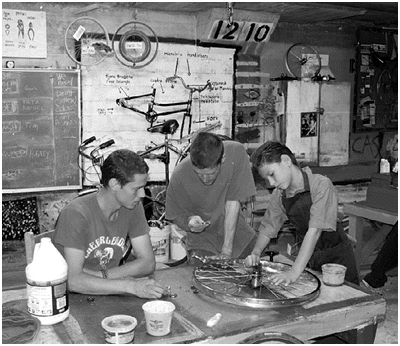 Wildcat File Photo
Arizona Daily Wildcat

Mark Gifford (far left), and Allen Reilly help Jesus Rodriguez (right) fix a rim for the bicycle he is building at BICAS. BICAS offers repair clinics for those interested in fixing their own bicycles. All of the materials used by BICAS are recycled bicycle parts.
Do you remember your first bike? You know, the one with the banana seat, flag on the back and multi-colored streamers snapping in the wind? It was heavier than sin on Sunday, had but one gear and could race the wind. Every scratch told a story. It was a treasure, and now it's gone.
That is, until now. All the world's old bikes are being reborn - snatched from the gnarly old arms of neglect and placed in the loving hands of Bicycle Inter-Community Action and Salvage, a non-profit bicycle cooperative which uses the bicycle as a basis for creating art, promoting community outreach and advocating urban change.
An abandoned wheel is not trash to Allen Reilly of BICAS. He holds onto each side of the hub of a wheel and spins it in front of him. "Ahh," he exclaims between smiling lips, "This is what it's all about."
It's about seeing the beauty in every thing, no matter what its perceived value. It's about how a piece of metal can become a piece of art. It's how a thing can become more than what it's made of. It's the story of BICAS.
BICAS is located in the basement of an artist warehouse on West Sixth Street. Descending into the dark, open room, you are immediately struck by all the bikes in various stages of death and rebirth. You can sense the history of each bike in its scratches and dings.
"When I look at a bike, I can tell a lot about the person who owns it," said Kim Young, founder and member of BICAS.
People from all over Tucson bring in their old bikes and BICAS revitalizes them. Bikes that can be salvaged are repaired and sold to the public, starting at $35 for a functional, one-speed bike to $150 for a classic Schwinn beach cruiser.
BICAS is far more than just a simple bike shop, however. For the members, bicycles are a way to reach out into the local community and beyond. BICAS operates a build-a-bike program, dubbed Youth Bike Underground, which is an eight session 25-hour course covering basic bicycle mechanics. After paying a small fee, each student is given a bicycle to work and learn on and when the course is finished, he or she gets to take the bike home.
Young, who founded the program in 1994, was surprised by the response she received from local children to her bicycle maintenance classes. At first, she was afraid that the kids wouldn't be interested in such a low-technology item as a bike. But they loved getting their hands dirty, working with the tools and creating a functioning, even beautiful, bicycle from nothing.
Besides gaining skills in a trade, the program has numerous other benefits for the students. In the process of building a bike, the students build self-confidence, improve problem-solving skills and learn to work in groups. Young has encouraged the students involved in the program to take a further step.
During a recent course, Tom Fisher, an engineer and transportation advocate for the community, brought aerial maps of Tucson and explained advocacy and the need for community improvement and better urban design. In response, Jesus Rodriguez, 10, an intermediate level mechanic and teacher at BICAS, led a group of his friends on a ride (using bikes that they built themselves at BICAS) down to City Councilman Jose Ibarra's office to present a request for a crosswalk to be put in near their school. As a result, the city government is doing a study on the feasibility of the idea.
BICAS has also extended its reach beyond Tucson. Instead of storing the excess bikes group members receive, they send them to Mexico to be used in community outreach programs. BICAS sends 500-1,000 bikes a year to Mexico. The bikes are not just dumped over the border, however; BICAS staff sets up clinics and teaches the local people how to repair and care for their bikes.
An integral part of the whole process is recycling. All the excess spare parts pile up - last year, BICAS accumulated 51 tons of metal. The metal can be taken to the landfill, but there are fees involved above and beyond the cost of transportation.
"We need to refine our recycling system by reducing the incentive to throw things away," said Young. One of the ways BICAS has done this has been to use bike parts to create functional, public art pieces. For example, The University of Arizona Transportation Department donates cut U-locks to BICAS which are in turn used to make bike racks. Examples of these can be seen on Fourth Avenue, and at Trader Joe's, Bentley's and the Phoenix Zoo. Also, The Fourth Avenue Merchants Association bought several trashcans made from bicycle forks and rims. Look for bicycle sculptures at street mitigation circles in the San Clemente Neighborhood (Broadway and Alvernon roads) in the near future.
Young feels that public art is a great way to revitalize communities and give them an added sense of identity and well-being. She suggests that the community break from its traditional form and seek out alternative ways of doing things. BICAS trashcans and bike racks are more environmentally proactive and reflect community values. They are also permanent, as compared to freeway art, which serves no functional purpose and can only be seen within a span of seconds.
If BICAS had its way, you get the impression that the future would look something like this: there would no cars, only bicycles. Bikes would be everywhere, not just on the streets, but in our houses, offices and public spaces in the form of chairs, ash trays, clocks and so on. There would be a hundred different words for bicycle, much like Eskimos have numerous names for ice and Americans have names for, uh... never mind. Everyone would work together in contentment and joy. All because of bicycles.
BICAS PROGRESS REPORT
July 1997 - August 1998
192 youth (95 percent low-income or very low-income) trained as bicycle mechanic apprentices
5,100 hours of volunteer community recycling service contributed by youth
250 bicycles recycled
175 bicycles resold and/or donated to program
35 bicycle racks have been built and installed by the BICAS Youth-Built Bike Rack and Sculpture Business
BICAS - Bicycle Inter-Community Action and Salvage - will hold its third annual benefit art auction and potluck Sun., Nov. 1, from 3 p.m. - 7 p.m. The group is requesting donations of artwork depicting the bicycle in any form or style. BICAS is located at 44 W. Sixth St. and is open Wednesday through Saturday from 1 p.m.- 7 p.m. Call 628-7950 for more information.