Finding a place to live one of biggest questions for students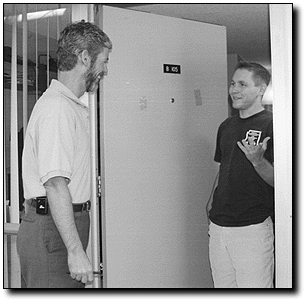 Leigh-Anne Brown
Arizona Daily Wildcat

Resident Life Director Jim Van Arsdel chats with Babcock building resident Tim Sikorski, a chemistry sophomore. Van Arsdel has the difficult job of making sure every aspect of resident life runs smoothly.


Each year, students ponder the question of where to live.

Living in a university town provides students with a multitude of options from which to choose - dorms, sorority or fraternity houses, apartments or houses.

Before a decision can be made, students must examine their resources, including finances, transportation and roommates.

Students opting for a dorm can choose from 19 residence halls around campus.

This semester, 4,750 students chose to live in residence halls.

Residents of dorms, primarily freshman, pay between $1,831 to $2,816 per year for rent.

Residence Life director Jim Van Arsdel said proximity is the dorm's primary attraction.

"I know people who said they rolled out of bed five minutes before class and made it on time," he said.

Research has shown that students living in residence halls perform better academically than students who do not live in dorms, Van Arsdel said. They drop out at lower rates, earn higher grade point averages, and graduate at higher rates, he said.

Van Arsdel said another allure of dorm life is the opportunity to interact with new people and make friends.

"I like it (the dorm) better because it's on campus, it's centered, and you meet more people because there's more interaction," said an Arizona-Sonora resident assistant Dave Mitchell, an MIS junior, who has lived both on and off campus.

The amount of students in a dorm can have adverse effects, though.

Coronado residence hall frequently experienced false fire alarms last school year, primarily because of the large number of students living there, Van Arsdel said. Coronado is the biggest dorm on campus, housing 800 students.

School officials have installed a $50,000 camera security system to curb the occurrence of false alarms.

Coronado's reputation as a party dorm has led to an increase of staff in the dorm.

"Word on the street is that Coronado is the place to be," Van Arsdel said.

Now three resident assistants live on every floor, as opposed to the two in years past.

One full-time and two part-time hall directors and a 24-hour front desk staff complete Coronado's staff.

"It's really the most challenging dorm on campus," he said.

Students in the Greek system wishing to live on campus but not deal with fire alarms, bad roommates or RA's can elect to live in fraternity or sorority houses.

This year, approximately 1,000 sorority and fraternity members preferred this option.

The price is only slightly more than a dorm, at about $3,000 to $3,500 per year.

Living in a Greek house provides a cozier atmosphere, said Gamma Phi Beta president Dana King, a sociology senior. Gamma Phi Beta's house provides its residents with a living room area, a computer lab, parking, and close proximity to campus, she said.

"It's a community way of living," said Sigma Chi's president Erik Nelson, a finance entrepreneurship senior. "It's a lot more fun, a lot more of a social atmosphere."

Betty Souka, Alpha Chi Omega house director, concurred saying, "It's more family-oriented."

Students not in a fraternity or sorority can choose to live off-campus in one of the many apartments or houses for rent in Tucson.

Students can choose from more than 425 apartment complexes in the Tucson area.

The rent for apartments or houses ranges from $200 to $1,000 per month depending on the number of bedrooms and bathrooms, location, and the facilities available.

Although rent for most apartments includes the water bill, electric and/or gas bills must be paid by the tenant. Renters in houses must pay both water and electricity.

Furnished or unfurnished apartments or houses is another option that must be considered.

Students living off campus must also contend with the possibility of bad landlords.

Associated Students of the University of Arizona lawyer Susan Ferrell said one third of the students seeking her services, about 300-400 cases per year, have questions concerning off campus housing.

The most common issues involve the landlord's failure to maintain the property, return a security deposit and breaking a lease.

The landlord is at fault in the majority of the cases, she said.

Ferrell encourages students to first write a letter to the landlord, which she offers to edit, before asking her to directly intervene.

The University of Arizona's "Apartment Guide and Renter's Handbook" offers sample letters guiding students with this type of letter writing, including issues with security deposits, lease termination, and maintenance waivers or liens.

Ferrell has written several pamphlets, available in the ASUA office, addressing common problems that arise between landlords and tenants.

The pamphlets offers solutions to widespread problems, such as how to effectively communicate with a landlord or roommate, how to protect oneself from having the security deposit withheld, and the best way to deal with damages or poor maintenance. The pamphlets also outline the Arizona Residential Landlord Tenant Act.

Despite the possibility of landlord difficulties, many students enjoy life off campus.

"You have a lot more privacy," said Tristan Crenshaw, an environmental science sophomore. "You don't have to listen to obnoxious people running up and down the halls at 2 a.m."

With off campus housing comes the problem of transportation.

The Student Escort Service serves the areas between Tenth Street and Waverly Street, and Tucson Boulevard and Sixth Avenue.

The escort service, however, only operates Sunday through Thursday, dusk to1 a.m., and chauffeurs students either going to or leaving from a place on campus, with the exception of the Arizona Shuttle stop at Sixth Street and Cherry Street.

The escort service caters to 80-100 people per evening.

The other alternative offered by the university is the CatTran.

The CatTran, which has 10 shuttles, chauffeurs students around campus only and operates 6:30 a.m. to 8 p.m.

Students may also resort to using public transportation as means of getting to and from campus.

The SunTran bus serves all areas of central Tucson, where the university is located; however, students living in any extreme direction of the university will find the city bus problematic.

The city bus system costs $0.85 each time a person boards the bus, unless a transfer ticket is presented to the driver. A student or faculty pass with unlimited rides is available for a discounted price of $45 for the fall semester, $70 for the academic year, or $115 for the annual year.

The city also has designated bike paths for students commuting to UA.

Stephanie Corns can be reached via e-mail at Stephanie.Corns@wildcat.arizona.edu.