Construction greets students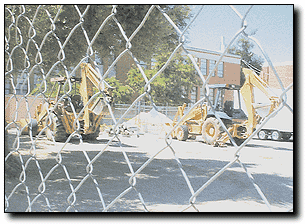 Matt Heistand
Arizona Summer Wildcat
Construction on the Memorial Student Union will continue until 2002, when the new $60 million structure is complete. The Integrated Learning Center, a one-story, underground freshman building, will be built this year as well on the east end of the UA Mall.
By Ty Young
Arizona Daily Wildcat,
August 23, 1999
Construction projects on the UA Mall and the Memorial Student Union will present a new dilemma for incoming and returning students as classes resume today.
Besides the problems of buying books and scheduling classes, students must now also locate the most efficient route to their classrooms amid construction fencing.
"I know it's important to expand the campus, but it is going to be very difficult just to find the right way to class," said management information systems junior Jason Shalansky.
The union, which was built in 1951 and has received numerous additions, is in the beginning stages of a $60 million project. The Arizona Board of Regents approved the design-build team of Swinerton & Walberg Builders and MHTN Architects, Inc. to complete the renovations.
Fences surrounding the north side of the union have stopped all pedestrian and bicycle traffic from East Second Street to the Mall area.
University of Arizona administrators and student leaders recognized the problems that this construction project has and will create, but are also confident that the future benefits outweigh the current complications.
"It is going to have a big impact, but in the long run, it's a definite benefit for students," said Associated Students President Cisco Aguilar.
The bulldozers and rerouting have already caused some dilemmas for students.
"It makes things hectic. For other people who don't know this place might think its a real mess," said Jerry Antone, a molecular and cellular biology freshman.
The construction may be an inconvenience now, but it is going to get more extensive. In early September, the complete demolition of the east side of the union will begin. This includes the destruction of Gallagher Theatre, the Union Club and the Cactus Lounge.
Many of these services will be re-located. Sam's Place has moved to the union's main floor lounge and Gallagher's movie tradition will be temporarily located in Social Sciences room 100.
Issues of personal safety have also come up in light of the demolition. Construction vehicles and bulldozers are a common sight on campus, especially near the union area.
"Pedestrians need to understand that these large trucks cannot stop on a dime," said Gilbert Davidson, assistant project manager for student union construction.
Alternate bicycle and pedestrian routes have been created in order to avert potentially dangerous situations. Bicyclists are encouraged to use the North Helen Street and North Warren Avenue underpasses when crossing East Speedway Boulevard, or walk their bikes through the North Olive Road underpass.
There will be no bicycle access across Speedway at North Mountain Avenue. The Tucson Police Department will be helping university police direct traffic properly at that intersection.
Pedestrian traffic will be permitted on the north side of Second Street near the union construction areas, while bicycle traffic will be restricted.
"The primary way (to avoid injury) is to follow traffic flow plans and respect the fences. Don't look for short-cuts," said Sgt. Michael Smith, a UAPD spokesman.
Smith also said the major areas of interest revolve around the Second Street and Mountain area. This is where the majority of congestion is expected to occur.
Many students already see this as a problem.
"Having it right in the middle is going to make it hard to get to class," said Chad Drago, aerospace engineering freshman.
Construction on the Integrated Learning Center will begin in mid-September. The UA will hold an ILC ground-breaking ceremony in early September as well.