No pain, No gain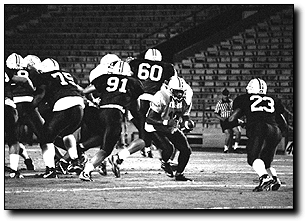 Casey Dexter
Arizona Summer Wildcat
Wildcats not 'crying over spilled milk' after Camp Cochise takes its toll on UA football team
No one on the Arizona football team will ever say that Camp Cochise is easy. After this year, no one else will doubt that notion, either.
The Wildcats saw some of their best players go down with new injuries and re-aggravated old ones at Camp Cochise this year, leaving a rather sluggish-looking team on the field at last Thursday's scrimmage at Arizona Stadium.
"There was a lot of guys getting injured, that's one thing you worry about," senior wide receiver Dennis Northcutt said. Northcutt missed the scrimmage with knee and groin injuries.
Northcutt said the extra time spent at Cochise to prepare for the season opener at Penn State on Aug. 28 may have contributed to the long list of injuries.
"I think that was one of the big things, being down there so long," he said. "I think every day someone was getting hurt, we started getting scared and stuff. You got so many people getting hurt you don't want to risk somebody not being able to play in the first game."
UA offensive coordinator Dino Babers said he didn't believe the length of time spent in Douglas had anything to do with the number of injuries.
"It's a physical game and guys get hurt," he said. "There's nothing you can do about it. The next Wildcat has got to step up, and we just keep going. We can't be sitting there crying over spilled milk."
Senior running back Trung Canidate, who sat out most of the contact drills with a sore knee, agreed with Babers.
"There's a lot of factors that can be attributed to that," Canidate said. "You just can't look at that. This is a contact sport. That's going to happen. You can't predict how many injuries you're going to have."
The players who went down also included senior wideout Brad Brennan, who pulled his hamstring, senior right guard Manuia Savea, who had a sore knee after coming off surgery in the spring and redshirt freshman running back Leo Mills, who went down with a separated shoulder just as he was looking to claim the No. 2 running back spot in camp.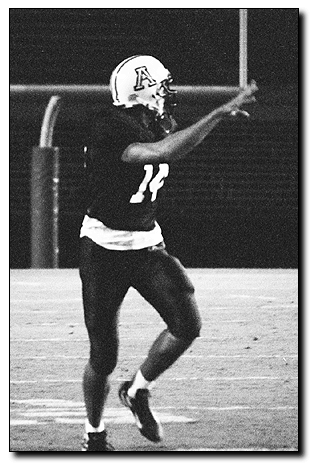 Casey Dexter
Arizona Summer Wildcat
Wildcats not 'crying over spilled milk' after Camp Cochise takes its toll on UA football team
Northcutt said his status is up in the air right now.
"I'm just going at it day-by-day, one day at a time, (getting) treatment and everything, trying to get better myself," he said. "I don't even know where I stand. I'm just trying to do everything I can to get ready for (this) season, I think I owe a lot to the team, and I don't want to let the team down and everything, but I've got to play this by ear."
Northcutt and Brennan's return to action is being anticipated by junior quarterback Ortege Jenkins, who was running out of players to throw to at Cochise.
"Dennis should be ready to go in by Sunday," Jenkins said after Thursday's scrimmage. "Him and Brad should be ready next week so we can get the guys who have been in the fire ready again."
Brennan said that the hamstring injury has been especially frustrating since he had to sit out spring practice because of ankle surgery.
"I just got out of the cast for my ankle and then this. I was just never thinking it would be like this," he said.
Brennan spent Thursday's scrimmage running on the sidelines with Northcutt.
"Conditioning has set me back, that's why I did a lot of running today," Brennan said. "And I have been working on mental reps with myself going through the plays and keeping up with my mental game."
Northcutt said his injuries happened over the summer, and he's not quite over them yet.
"Mine occurred two weeks before camp when I was out here working and stuff like that," he said. "I kind of got injured and then I re-injured it down at camp. About the third day of camp and ever since (it's hurt). Right now it's getting better, but it's not 100 percent."
"It's getting better," Brennan said. "It took a while, but it's progressing faster than expected. I'm still not where I need to be."
Canidate said that not participating in full-contact drills is less of a physical thing than an aspect of mental conditioning.
"I think I had a little contact throughout the day in the running back drill, I just didn't get contact from a team aspect," he said. "Contact, you know, it's all in your mind. I would have liked to have gotten out there and gotten some, but hey, these are the coaches, and they make the rules and stuff. I'm just trying to be ready for Penn State."
As for Mills, he merely said "it's getting better" in regards to his shoulder and that he expects to make the trip to State College.
Defense also got banged up
The Arizona defense didn't exactly come away from Camp Cochise unscathed either.
The more serious injuries felled junior defensive tackle Anthony Thomas (ankle), junior defensive end Mike Robertson (knee) and senior strong safety Greg Payne (ankle).
Of the three, Thomas' injury was the most debilitating.
"It's about 60 percent right now," he said. "I've been in the training room, three times a day, trying to make it better, but I think it's going to take a while."
Thomas said his chances of playing at Penn State aren't good.
"Right now it looks doubtful," he said. "I'm trying as hard as I can to get back in there, hopefully contribute in some way, maybe as a pass rusher.
"I've got to hit the training room hard right now."
Thomas said he and the coaches have discussed the possibility of redshirting the season.
"It's in the back of my head but, you know, everyone's high on the new guys, and I'm high on them too," he said. "If they step up, maybe I can get a year of benefit in the weight room."
Robertson missed part of last season with a separated shoulder, so this year's injury has left him frustrated.
"I hurt my knee, and that's a hard thing because my legs are my deal," he said. "I run a lot when it's hurt, but it slows me down."
Robertson said that if nothing else, he's played through pain in the past and knows what he has to do to get better.
"I am going to play through it," he said. "I am going to get out there, work hard and I have been playing with pain. I am used to it."
Secondary coach Duane Akina said Payne is making progress in his recovery, as is senior Leland Gayles, another defensive back slowed by injury,.
"He's (Payne) coming along good, making it on schedule," Akina said. "He's a guy that knows the game, knows the defense very well. He needs a lot of physical reps, he needs to get back out there."
Akina said similar things about Gayles, who missed most of last season after he accidentally collided with UA linebacker Marcus Bell at Washington and suffered a severe neck injury.
"I think he's going to be fine," Akina said.
Gayles is stepping into departed All-American Chris McAlister's spot in the lineup.
"The more and more he gets into this, the further away the injury is an issue. I think the next step will be his first game. He's been in scrimmage situations and with all my drill work, he's back to where he was and you really don't see the effects of the injury. Even when you talk to him you can tell it's not the issue it was."
Punt returns divided due to
Northcutt's injury
With McAlister now playing in the NFL with the Baltimore Ravens and Northcutt on the sidelines, the Wildcats had to use other players to return kickoffs and punts at Cochise and in the scrimmage.
The group was taken from all over the team, from senior linebacker Scooter Sprotte to freshman receiver Bobby Wade.
Sprotte said Northcutt's injury was the only reason he was returning kicks.
"Dennis would have probably caught them all and all I am is a back-up," he said.
Sprotte said he has been returning kicks his whole career, but he said he doesn't expect to do it much once the season starts.
As for Wade, he said he was looking forward to being a return man for the UA. He also realizes that once Northcutt is 100 percent, he's going to be the backup returner - but he isn't complaining.
"In camp, I've been doing a lot of kick returns and it's something I want to do, but right now I'm sitting behind Dennis," he said.
Wade says move was his idea
Some of the players who made up Arizona's best recruiting class in years did get the chance to show their stuff at Cochise.
Wade, an All-State tailback at Desert Vista (Phoenix) High School, changed position to wide receiver because of the injuries to Northcutt and Brennan. The move was a good one, as Wade is now listed on the depth chart behind Northcutt at one of the two wide receiver positions.
"It was my choice," Wade said. "They (the coaches) wanted to keep me at tailback but gave me the option to go to wideout. I'm just trying to help the team. The depth is not as strong at wide receiver as it is at running back, so I'm here to fill in when needed."
Wade's performance did not go unnoticed by the UA's starters.
"Bobby Wade, I really feel was one guy they weren't depending on to come in and play and give them some help at receiver," Northcutt said.
Wade said he wants to "master one position," meaning his shift to receiver could be a permanent one.
The offensive backfield shouldn't miss him too much after two newcomers emerged as potential contributors for 1999. Freshman running backs Lance Briggs and Larry Croom also got the chance to play a lot in camp with Canidate and Mills' injuries and Leon Callen missing time due to wrapping up his summer school classes.
"I thought Larry Croom had a very nice camp," Babers said. "I thought Lance Briggs did some nice things."
The Wildcats' lone offensive lineman in the recruiting class, junior Kevin Barry, also emerged as a force at Cochise. He will back up sophomore left guard Steven Grace.
Senior defensive back Derek Hall earned a spot on special teams much like the one that ex-Wildcat Barrett Baker had last year. Hall could wind up following Baker as the special teams captain, but that probably won't be decided until later in the season.
Defensively, junior defensive end Austin Uku should appear frequently to lead the Wildcats' pass rush. Recruited only after his friend, junior tight end Brandon Manumaleuna, brought a tape of him to the UA coaches, he is listed as the back-up to Robertson at left defensive end.
Another junior college transfer, sophomore Zaharius Johnson, is listed as the back-up strong safety after a strong camp.
East coast drought causes field problems
The heat wave that baked the eastern United States this summer left most of Pennsylvania in a drought, forcing Penn State officials to get creative in terms of keeping the field at Beaver Stadium alive.
Creative is one way to put it anyway.
The Nittany Lions' groundskeepers pumped water from the nearby nuclear reactor onto the field. The water was not contaminated with radiation, as it was only used to cool the reactor and had no contact with any radioactive materials.
At least one Wildcat, though, was a bit taken aback by the news of what PSU did.
"So what, I'm supposed to fear cancer now?" senior fullback Jim Wendler said with a laugh. "Are my kids going to have six heads?"
Wendler said he wasn't sure if it was "dedication or stupidity, but we'll find out in 30 years."