Hate crimes forum draws scores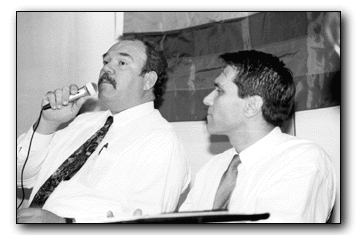 Arizona Daily Wildcat
Photo by: GAVIN STEVENS
Tucson Police Detective Tim Rutel (left) addresses the audience, while moderator Rich Musczynski looks on at the Public Education Forum on Hate Crimes held last night at the Wingspan Community Center. Rutel spoke about hate crimes and offered tips on what actions to take in the event of a hate crime.
About 100 people gathered for a public education forum on hate crimes last night, following the recent stabbing of a gay UA student at a Fourth Avenue coffee shop.
The standing-room only event at Wingspan, Tucson's gay community center, featured a panel of attorneys and representatives from the Tucson Police Department.
The speakers addressed how they are involved in combating hate crimes, the legal aspects of such offenses, and tips on the importance of recording and reporting incidences of anti-gay hostility.
Kathleen Williamson, a local attorney and judge, said cases of violence against gays are sometimes mistreated.
"I've seen those cases mishandled quite frequently," she said. "I'd like to say it doesn't happen often, but it happens more than I'd like it to."
Williamson said physical attacks against gays may have deeper, "complicated psychosexual" motivations, as evidenced by the multiple wounds attackers often inflict on their victims.
"It's not a black and white situation of straight and gay all the time," she said.
Tim Rupel, a detective from the hate crimes unit of TPD, said Tucson police officers are given four hours of hate crime instruction - at least twice the amount required of Phoenix officers and other forces nationally.
However, Rupel said he relies on the public to be his eyes and ears, reporting hate crimes they experience or witness, so he may learn more about his specialty, as well as inform the rest of the force.
"I need to know what's going on out there," he said to the audience. "I need to be educated, and you need to educate me."
Rupel added that he considers the people who commit hate crimes cowards.
"People who do hate crimes are weak people - they're chickens," he said.
Wingspan President Stephen Hall said the forum was also in response to the fear many gay people have admitted about visiting the Fourth Avenue area in the wake of the stabbing.
Hall said the Fourth Avenue district is a popular gathering place for gays. The scene of the stabbing - Rainbow Planet Coffee House, 606 N. Fourth Avenue - is only two blocks from Wingspan's offices.
General concerns about personal safety and how to deal with the stress of reporting hate crimes also weigh on the minds of the gay population, Hall said.
"I'm really grateful for the turnout," he said. "It shows how important this issue is to our community."
The Rev. Joyce Cook, from Water of Life Metropolitan Community Church - a Tucson congregation that welcomes members of the gay community - said an attack in God's name could never be made.
The man charged in the Rainbow Planet stabbing, 37-year-old Gary Grayson, was reported by witnesses to have shouted "God hates faggots" during the attack.
"I believe that the Scriptures tell us that's not true," said Cook. "Clearly, clearly this attack on our great brother was not from God, it was from hate."
"This (Bible) is a book that should be used for comfort," she said. "And so many times, that doesn't happen."
Cook cited several Bible stories that she said may have gay overtones, such as the relationships between Ruth and Naomi, and Jonathan and David in the Old Testament.
"I just really want everyone to know that I'm here to assure everybody that Jesus the Christ never said anything negative about homosexuality," she said.
"God loves us - period. The end," Cook added. "The truth shall set you free, and that truth is that God does love you."