'High Men' turning water into whiskey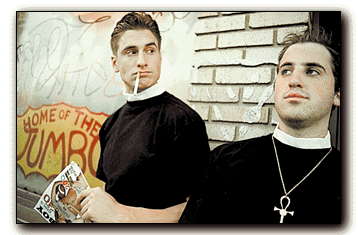 Arizona Daily Wildcat
Photo by: DANIEL KEMPNER
The High Men, media arts senior Robbie Keller (left) and business management junior Adam Kondonijakos perform their religious rite every other Wednesday night on public access television. "Fathers" Keller and Kondonijakos tackle tough social issues from a unique perspective in a live, call-in format.
Media arts senior Robbie Keller and business management junior Adam Kondonijakos are two such students.
Their live and audience-friendly call-in show, is appropriately named "High Men."
On the show, they address opinions from callers on subjects ranging from "greatest movie bad-asses of all time," to "greatest inventions of the millennium."
On the subject of "greatest inventions of the millennium," most viewers strayed from the subject entirely, suggesting that certain body parts, unsuitable for print, should be put inside various places, also unsuitable for print.
So, the question of the greatest invention was left for Kondonijakos to answer - alcohol.
"It's the cause of - and solution to - all of life's problems," he said.
Kondonijakos and Keller test their hypothesis every week by consuming large quantities of "fine wines" from the state of Tennessee and the mysterious "King Cobra" region.
Why produce and direct an access show instead of something else - like homework?
"To waste time," Keller said. "To get involved and be creative. I have a passion. I used to be media arts, but then I turned into this big yuppie - but I get to release my creativity now and then."
Keller and Kondonijakos said they were grateful to Access Tucson for providing the equipment to produce their show, and for allowing them to have forum to express themselves freely.
"The good thing about our show is that we aren't FCC regulated," Kondonijakos said. "So they haven't defined what excessive vulgarity is, you know? We can do whatever we want."
This freedom has allowed them to create characters for the show - two priests played by Keller and Kondonijakos.
The priests perform acts very unbecoming of priests. For instance, they publish a newsletter about the sexiness of choir boys and turn water into hard liquor - actions that would easily lead to excommunication.
Keller admits their show is not for the easily offended.
"We go kinda counter to the trend of political correctness, but we do it in a laughable way, not like Andrew Dice clay, sorta like - two idiots that you know," he said.