The man behind the noise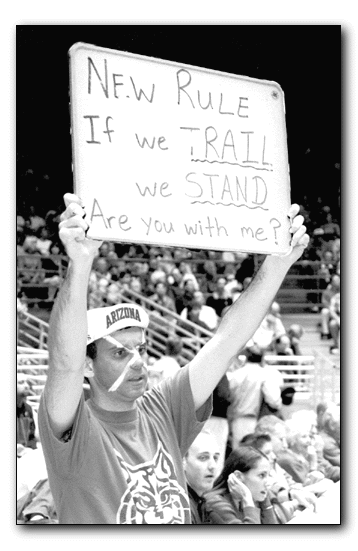 Matt Capowski
Arizona Daily Wildcat
Men's basketball "Super Fan" Doug Tepper gets the crowd into the Feb. 3 game against Oregon. Tepper, who is a fifth grade teacher, graduated from UA in 1992 and began receiving free basketball tickets the next season.
The students cripple themselves into non-standing positions for the game.
A hush falls over the alumni section, making it comparable to the library.
A bead is heard echoing through the arena as it drops out of Edgerson's corn-rows and bounces on the polished hardwood floors.
Then, there is some foot stomping, hand clapping, finger snapping and noise shouting as the blanketed silence in McKale Center is broken.
Players, alumni and fans alike look up. What could it be? Is it a bird? A plane? No, it's the Super Fan, otherwise known as Arizona alum Doug Tepper.
Doug Tepper. Name not ringing a bell? If you're a basketball fan, you've heard this guy. If you've been lucky enough to pull off seats in McKale, you've seen him.
"Oh, you mean that guy with the painted red and blue face who holds up cheering signs?" asked Heather Peterson, a speech and hearing sciences junior.
That's the one. Tepper graduated from the UA in 1992 and received his master's degree in '96. He has been attending basketball games at McKale Center since 1983, and began his role as the "Super Fan" 10 years later.
"I wanted to get the crowd involved," Tepper said. "When the atmosphere is getting dull, I feel it's my job to get the crowd going again. I'll do whatever it takes if it's helping the team win."
Tepper first made his appearances in McKale by buying tickets off scalpers, but the Athletic Department officials saw his efforts as a significant contribution to the game, and now he is given tickets for the games.
"I think he is a very valuable fan to us," UA head coach Lute Olson said. "I make sure that he gets in."
Although Tepper covers all sections of McKale on his cheering route, his official seat is actually behind the basket, adjacent to the band.
"He doesn't sit anywhere," Olson said. "But he has a seat by our daughters and probably no one else would want to sit there anyway."
Tepper's typical day on the job at McKale includes gearing up in Wildcat fanfare from head to toe. He streaks his face with Indian red and blue war paint, camouflages himself in a red basketball shirt and waves mini pompoms in the air.
He retires his pompoms for a white board on which he inscribes messages to the crowd such as, "Who needs sleep? Stay until 0:00" or, "Start cheering, if we wait for the alumni, we'll be waiting forever."
And his signs seem to reach the crowds.
"McKale is like a retirement home most of the time because people don't get up," communications senior Chris Hippler said. "He motivates the front rows to their feet, and the lazy people behind them have to stand, too, to see."
Olson and the players notice his cheering attempts, as well.
"I think he provides to the crowd what Ooh-Ahh did for years," Olson said. "During the course of the game I don't know what is going on, but (my wife) indicates to me that he is up and very active, getting everyone involved."
"Super Fan" has formed a unique bond with the Olsons, as he habitually begins each game with a wave and "hi" to Bobbi, Lute's wife, across the stands, and sends birthday cards to the couple.
"I know Lute Olson better than the team does," boasts Tepper, who is a fifth grade teacher at Marshall Elementary School.
However, Tepper isn't into his "job" necessarily for perks, but rather just to help the team.
"I'd give up being the Red-Blue guy in a second if the crowd would initiate their own cheer," he said. "It's not for my personal glory and gratification, it's for the team."
Tepper does admit his role has its moments.
"It's fun when the kids see you as a sort of a cartoon character."
And the bigger kids, the UA students, join in the respect for Tepper's fanfare.
"It's great to see him still involved," Hippler said. "It's neat when people are at the game not just because they're a contributor, but for the love of the game."
Tepper's hopes for this season are to see the Wildcats win the national championship. For his personal role in the journey there, "I hope my hands and voice hold on. I do have the loudest clap in the arena you know."
Kate Longworth can be reached at Kate.Longworth@wildcat.arizona.edu.